Join us for our second annual, 4-day intensive retreat held at the Westerbeke Ranch in Sonoma, CA.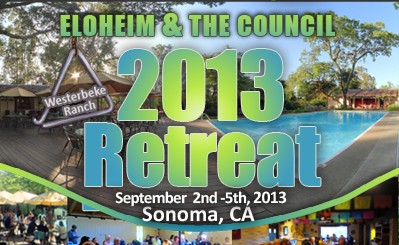 This event will be held from September 2nd through September 5th, 2013.
Personal transformation and healing!
Amazing meals!
Gorgeous setting!
Incredible people!
FOUR channeling sessions!
Break out groups include: Adventures in Alternate Expressions, Sound healing, Astrology, Aura Photography, Toning, Quantum Release, and MORE! Scroll down on this page for breakout group details.
Don't miss this opportunity to interact with Eloheim and The Council in person!!
Schedule
Monday, September 2
4:00 Arrival and check in
4:00 – 6:30 Meet and greet
6:30 – 7:30 Dinner (included for all participants)
8:00 – 9:30 Opening channeling session
Tuesday, September 3
8:00 – 9:00 Breakfast (included for overnight guests)
10:00 – 12:00 Channeling session
12:30 – 1:30 Lunch (included for all participants)
2:00 – 6:00 Break out groups
6:30 – 7:30 Dinner (included for all participants)
8:00 Social night
Wednesday, September 4
8:00 – 9:00 Breakfast (included for overnight guests)
10:00 – 12:00 Channeling session
12:30 – 1:30 Lunch (included for all participants)
2:00 – 6:00 Break out groups
6:30 – 7:30 Dinner (included for all participants)
8:00 Share your gifts show (As in something like a talent show but less triggering!)
Thursday, September 5
8:00 – 9:00 Breakfast (included for overnight guests)
10:00 – 12:00 Channeling session
12:30 – 1:30 Lunch (included for all participants)
2:00 – 3:00 Closing circle
3:00 Check out
San Francisco (SFO) and Oakland (OAK) are the closest airports and both are about 90 minutes drive away. If you have a choice,I STRONGLY RECOMMEND OAKLAND AIRPORT. The drive is much easier as it's almost all freeways whereas the drive from SFO is through San Francisco before you get to the freeway and SFO is often affected by fog which delays flights.
We have private Facebook group for retreat participants. Last year folks got to know each other that way and also arranged shared ground transportation ahead of time. It's a lively forum that I visit multiple times each day. You will be added to that group (if you wish) when you submit your reservation.
Overnight Guests receive:
Three nights lodging
Nine amazing meals
all activities
Recordings of all channeling sessions!
$799
Day Guests receive:
Six meals (lunch and dinner)
All activities
Recordings of all channeling sessions!!
(NO lodging, NO breakfast)
$525
Single Day Guests receive:
Two meals (lunch and dinner)
All activities
Recording of ALL channeling sessions from each day!!
Tuesday and/or Wednesday – activities from 10am to 10pm
(NO lodging, NO breakfast)
$175 per day
~~~~~~~~~~~~~~~~~~~~~~~~~~~
Overnight Guest
~~~~~~~~~~~~~~~~~~~~~~~~~~~
Day Guest
~~~~~~~~~~~~~~~~~~~~~~~~~~~
Single Day Guest
Tuesday and/or Wednesday – $175 per day (includes lunch, dinner, and recording of all channeling sessions from ENTIRE retreat)

Payment is non-refundable. If circumstances prevent you from attending, 75% of payment may be applied toward our other offerings.
IN ADDITION to 4 channeling sessions with Eloheim and the Council. We will have these amazing breakout groups!
Breakout Groups

Mary Yoon, Adventures in Alternate Expressions
Feel like you've met your "tribe"? Does the rapport feel stronger than present circumstances might warrant? Come explore through hypnosis your past lives, your DNA traits, even past relationships to one another. Learn techniques to bypass the mind, its model of the world and its programming, so that you can more easily access allowing of the heart. Watch it move!

Richard Applegate, What if you could choose again?
With a guided meditation and powerful energy work, we'll bring in light and love to soften the masks of our constructed self. We'll facilitate a shift in those programmed parts of us by taking another look at life from a Homo spiritus perspective. All of us grew up with some degree of trauma that led us to construct masks to protect us from the world. The masks of the constructed self are based on old experiences, old decisions about life. What if you could choose again and offer the constructed self a higher perspective? How might your view of yourself and the world shift? We're not dropping or destroying the masks of the constructed self — imagine the panic among your inner children at that prospect! — but letting them soften and take on a new shape, a new expression.
Margy Henderson will offer a sound healing experience
Get comfortable, set your own intention, receive lovingly offered sounds of Peruvian Whistles, Himalayan bowls, bells, drum, dijeridu, and Margy's oddly useful vocal sounds. Drop into altered states and follow your visions.

Rene Duer, Astrology Workshop – Your Natal Chart, Your First Choice
Your Natal Chart is your first choice. Your soul's desire to incarnate at a particular time and place is the first choice you make each lifetime. The Natal Chart contains important information about your soul's intent and trajectory for this lifetime. In this workshop we will discuss the importance of 4 major indicators in the chart: The Sun, Moon, Ascendant and the Nodes of the Moon. We will orient you to the signs, houses and planets using example charts, questions and discussion.
Mary Yoon, Quantum Release
Using each individual's structure of Time, this session will teach you to release trauma, anxiety and limited decisions. A powerful tool, this technique gives a fresh view on "baggage" and can be used without wallowing in content; thus sparing the body needless repetition of trauma and pain. As you learn it, you can use it in a matter of minutes or even seconds to diminish or erase current static and keep it from becoming baggage. Bringing the vast information and talent of the unconscious mind to consciousness fits perfectly with the current teachings of Eloheim.

Margy Henderson will lead a Toning Circle
"This is an opportunity to grow in resonance with ourselves and each other. Resonance is being in harmony, balance and alignment with the sacred pulse of authentic reality. We will use our own voices as built-in healing apparatus. Toning together creates a field of mutual well-being."
Hayat Bain will lead Dances of Universal Peace
If you can talk you can sing these songs and chants, and if you can walk you can dance the Dances of Universal Peace. No experience nor music or movement expertise is necessary. Each song and dance is taught as if all participants are beginners. This is "sacred movement", using powerful, heart opening sacred phrases from all the world's cultures, evoking inner peace, love of self and others, unity, forgiveness, joy and gratitude, amongst many other universal themes. These dances are a way to more fully ensoul your body! And you'll find you're more open-hearted and deeply interconnected with each other, enabling the remainder of the retreat to be even more expansive and amazing!
Drop in Aura photography with reading will be available.
Mary Yoon, Ph.D. Clinical Hypnotherapy and Trainer of NLP Has trained doctors, chiropractors and psychologists in use of hypnosis. Private practice concentrated on sexual abuse issues.
Margy Henderson is a sound healer with 20 years of experience. She has been leading toning circles for 11 years and is also a Spiritual Death Midwife, Home Funeral Guide, Barber, and a quite wonderful Hand Analyst.
Rene Duer practices Evolutionary Astrology which maintains that the Soul incarnates across time and space in order to refine and broaden its experience here on Earth. Delineation of the natal chart reveals past life patterns as well as the Soul's intent and trajectory for this current lifetime. Rene received her MFA in Painting, Theory and Criticism in 1990. She has been a student and practitioner of astrology for 30 years and maintains a busy practice with a global clientele.
Richard Applegate, Ph.D. facilitated emotional clearing work for many years. He has trained in several energy work modalities which he has synthesized into something hard to describe. He is a healer and ritual leader.
Hayat is a certified leader of the DUP, and has been dancing and playing flute for the Dances for about 14 years and leading Dances at various types of events with newbies and experienced dancers alike for 6 of those 14 years. Sharing the DUP is one of Hayat's greatest joys and has been a significant tool for her own awakening and transformation. It is now one of her regular centering practices. Join Hayat during the social evening of the retreat to connect heart-to-heart and hand-to-hand with your fellow retreat participants. It won't be scary! It's fun! Visit www.dancesofuniversalpeacena.org learn more. There are some beautiful videos of the Dances of Universal Peace on this website.
Here is a video with clips from our 2012 retreat!

Some comments from our 2012 retreat participants:
2012 Retreat Testimonial, Mary Yoon, Ph.D.
Part of me wants to tell you that you'll just know if you're meant to be here. Part of me wants to encourage anyone reading this to do him/herself the biggest favor I ever did for myself and come to this retreat. The worst that you'll get is a gorgeous natural environment with absolutely delicious food. No demands are made, yet if you step up and into the energy of The Council, if you're willing, you will transform.
We hear that word often, transform. Many of us have attended myriad classes, retreats, therapies, etc. etc. in our attempts to transform our fears and discomforts, to expand our awareness, our knowledge. While I am grateful to all previous teachers and teachings, no other approach to my personal search comes close to the potency of Eloheim. I was one who resisted the schmaltzy idea of Oneness, feared a loss of individuality at the same time as I sought union, reunion. Yet there I was with 37 others, having a profound experience of Oneness—zero social agenda, no egos, no syrupy Kumbaya, no duality and very often no words.
Every person went one on one with Eloheim and each and every person's presentation was mine—and mine was theirs. There simply was no separation, no moment that wasn't almost unbelievably fruitful. You can watch the video, listen to the recordings and there is much to glean. Yet the most valuable and transformative moments are, I believe, far easier to integrate when you are physically present. Being eye to eye with Eloheim, having amazing, funny and generous Veronica touch one's shoulder, hand, head in their energy was literally beyond words. To be understood, seen, heard, assisted, held responsible, checked that the new awareness was conscious and integrated all while you are deeply loved and supported— come.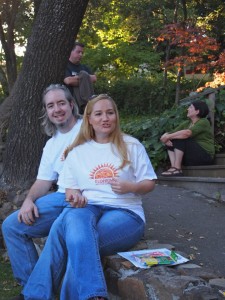 Recognizing the feeling I am greatly loved was my overwhelming experience at the retreat. Witnessing the experience of others with Eloheim as they had their own unique "obstacle" revealed to them and making a deeper connection with their soul was SO beautiful. The feeling was of our being One. You are me and I am you, we are One and that oneness is Love.
-Mary G.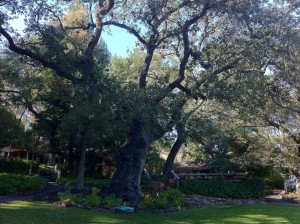 Going to the Eloheim retreat last August was the best thing I have ever done for myself, outside of having my two kids. I have been a student of the Eloheim and then the Council for several years, and I totally resonate with their teachings. Not being a fan of what Eloheim calls "bunnies and rainbow or airy-fairy" stuff or beating around the bush, their straightforward manner of speaking and practical tools have made a huge difference in my growth and how I feel about myself and my life.
Here's the background: It took me several months to actually commit to going to this since I am not a fan of groups and never have been a joiner. I am a loner. In group scenarios, I tend to clam up and just watch people, feeling on the outside and quite uncomfortable. I much prefer one-on-one or very small groups. To get to the retreat in Sonoma from my house is a twelve hour travel day for me no matter how I work it. Not to mention a big trigger of mine, money. Spending so much money on myself was scary. Am I worth it? Oh, then there's the husband who does not believe in this "woo-woo" stuff and gives me a hard time for doing things like this.
All these things held me back though I desperately wanted to go once I heard about the retreat. Until one day I said to myself, Screw it! and over my fear, closed my eyes, pushed the button to commit to go and sent in the deposit to Veronica. I was going. The details would work out somehow. And they did. Step by step over six months.
The Retreat: It is a wondrous thing to be amongst a large group of people with no egos, no drama, and open hearts. Everyone was on the same page and from the start, conversations were easy and interesting. I had never experienced anything like it before. I was comfortable with everyone, all thirty-eight (?) people there. Amazing.
The cabins were wonderful, roomy and had everything you would need to be comfortable. The hosts were warm and welcoming and the area beautiful. It was a great choice of venue. The meals were oh-so delicious, with many choices and options offered for all needs. I (over)ate my way through the weekend!
Over the course of two and a half days, we had the opportunity to attend sessions with tuning forks, sound healing, massages, palm reading, astrology charts, financial strategies for the new energies, and energy work, all offered by attendees, as well as time to spend alone if desired. Everything was optional.
The sessions with Veronica and Eloheim were beyond amazing. To be in the same room while she channels is a wholly different experience from watching it online. To sit in front of her while Eloheim looks out her eyes at you and pins you down is intense. It requires being absolutely present and absolutely honest. I almost chickened out and didn't go up front but made myself do it, and Eloheim called me on that. LOL. I'm glad I did go up there despite my shaky knees, that was the point of going, after all, to challenge myself and to grow. On the last day, I also had the honor of being a prime example for the group of "Missy Crazy". I finally had the "gate latch" moment Eloheim speaks of when they reiterated the need to set boundaries early and often so I can stay "Missy Centered" instead of becoming Missy Crazy. They had us rolling on the floor laughing during this part. Apparently it was a common theme because nearly everyone came up to me afterwards laughing, to tell me they really resonated with my story! A prime example of Oneness, actually. I know I felt a kinship with nearly every other person when they sat in front of Eloheim to talk about their issue. They were my issues, too, as mine was theirs.
Leaving was the hardest part. I felt such camaraderie with everyone and like I said at the retreat, they are my people, my family, my heart. I look forward to the day when everyone feels this way everywhere I go!
After the Retreat: My growth continues, I have changed, exponentially it seems. Upon my return, at least four people remarked that I looked different! What did I do? At first I was confused, thinking they were referring to my appearance but then I realized they were seeing a change in my energy. Wow, apparently it shows! I have found it easier to be authentic me without feeling like I should apologize. I am able to stay present and centered most of the time and when I'm not, I can pull myself out of the mire of my negative emotions quicker and don't allow the "you suck" talk to stay longer than a few seconds.
In mid-October I was offered a chance to visit Panama with a friend in December and this time it didn't take me long to say yes! I went and had a wonderful heart-opening time. That was another big step forward on the path I began to walk when I said yes to the Retreat. Or should I say, when I said yes to me!
Say Yes. Go. You will not regret a moment. You will meet some "awesome" people, per Kerri at the retreat. And you will go home a changed person.
-Dorothy F.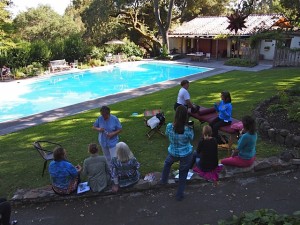 When I awoke this morning, I wished that I was back at the Westerbeke Ranch with all of my new friends, the great food, the quiet and the energy. Fantastic retreat!
-Dave G.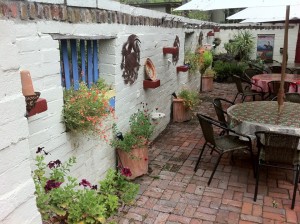 I am so very grateful to the Eloheim for showing me the way to finding my own self and to look at all parts of me that need and deserve immediate attention. I have resonated to the Energy and teachings of the Eloheim and the Council since they first came into my radar not long ago, but my admiration and desire to put their teachings to full use have grown tremendously since being in their company this past weekend.
-Connie O.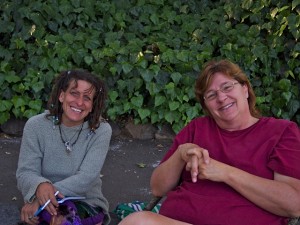 More details coming soon!
Start Time
Monday, September 2nd, 2013 - 4:00 PM PST
End Time
Thursday, September 5th, 2013 - 3:00 PM PST
* This is a non-repeating event
* This is a multiple-day event
Cost
$799 Overnight Guest / $525 Day Guest
Location
Additional Info
10% discount if paid in full by May 15, 2013
Submit your 25% deposit to hold your place.
Balance due by July 31, 2013