Eloheim and the Council are helping us move toward ascension – living from the soul's perspective within the human form. Each session, Eloheim's teachings build on the previous session. Questions from the audience help each of us see how the tools can be used in our own lives and help Eloheim tweak the energetics of the material presented.
Subscribing means you will never miss a meeting! Your monthly subscription renews automatically on the same day each month, so you can subscribe anytime. Annual plans run for one calendar year from the day they begin. Start anytime! You will get a full 12 months of meetings!
_____________________________________________________________
BASIC SUBSCRIPTION: AUDIO AND VIDEO DOWNLOADS OF OUR MEETINGS
This plan offers you the audio and video recordings of four channeling sessions per month. You will automatically receive an email allowing you to download both the audio and video recordings the day after our events. ($20 per month – $199 annually Pay annually and save $40!! )
BASIC Subscription Monthly – $20 Pay annually and save $40!!
BASIC Subscription Annually – $199 – Pay annually and save $40!!
_____________________________________________________________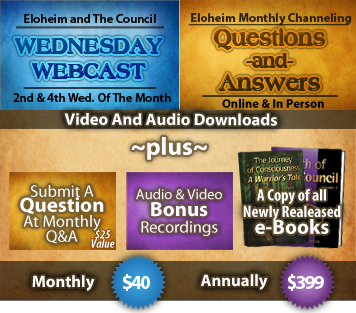 MASTER SUBSCRIPTION:
Subscribing to our MASTER SUBSCRIPTION ($40 per month or $399 per year Pay annually and save $81!! ) includes
Audio and video downloads of all group sessions automatically sent by email ($20 value)
ASK A QUESTION DURING the monthly Q&A with Eloheim ($25 value)
Ebook versions of our new books as they are released
Bonus recordings of added events – Eloheim Answers, Conversations with Eloheim, and MORE!



If you join at the $399 level, you will receive our entire back catalog of ebooks as well. As an extra bonus, I will mail you a signed paperback copy of our book, The Choice for Consciousness FREE or send you the audio and video downloads of our 2012 retreat. It's your choice!
MASTER Monthly – $40 Pay annually and save $81!!



Annually – $399 Pay annually and save $81!!
_____________________________________________________________
SUPPORTER
This plan is a way to support the continuation of The Council's teachings being offered online (YouTube videos, newsletters, and website posts)
_____________________________________________________________________
YOU CAN ALSO MAKE A ONE TIME DONATION OF ANY AMOUNT
QUESTIONS? EMAIL ELOHEIMCHANNEL@YAHOO.COM
---
---