Eloheim and the Council are helping us move toward ascension – living from the soul's perspective within the human form.
Each session, Eloheim's teachings build on the previous session. Questions from the audience help each of us see how the tools can be used in our own lives and help Eloheim tweak the energetics of the material presented.
Subscribing means you will never miss a meeting! Your monthly subscription renews automatically on the same day each month, so you can subscribe anytime. Annual plans run for one calendar year from the day they begin. Start anytime! You will get a full 12 months of meetings!
_____________________________________________________________
Becoming an Eloheim subscriber was truly the most valuable investment I ever made in myself. It was a commitment to my personal growth that I've never regretted and it helped me stay the course through many difficult and discouraging times. Kate in Canada
I have never felt so centered & on track. My subscription keeps me in touch with the latest information from the comfort of my home. Mark in Florida
Becoming a subscriber was first choice for me, there was no other option. The material caught me straight away with it being incredibly practical and down to earth. And hey, there is so much fun and laughter involved. Being a subscriber is my commitment to my spiritual growth, together with like minded super caring and loving people. Supporting Veronica is an affair of honour for me. What I get in return is priceless. The wisdom and guidance of Eloheim changed my life to the core of my being. The best investment in myself ever! An Ja in Germany
I became a subscriber out of curiosity, not knowing that I was beginning a journey. I've learned so much about myself, bringing along and integrating parts of me I didn't even know were there. I feel like I have learned tools that can get me through anything. I really enjoy the videos and the recordings, and it seems like there is always a new one when I am ready for it. I am just so grateful to have followed that inner urge and joined a wonderful community. Sara in California
"There are a lot of spiritual teachings out there, but Eloheim is different. If there is more down-to earth and day-to-day applicable advice from a soul's perspective, then I have yet to find it. Listening to the meetings recordings has become an invaluable part of my life, as it supports and accelerates my personal development in a way that feels more fitting and simply 'right' than anything else I have experienced.

If you want to replace 'fear' with 'consciousness' in your life, this experience shows you the way!" Christian in Austria
I've really enjoy being a subscriber. Considering all the extras we get, it really is amazing value … much better value than many other spiritual growth or personal development programs I've subscribed to. What is great about subscribing is knowing that there is this continuity of learning how to bring more of my Soul into my human experiences. Maya in the UK
I subscribed for the first time several years ago, my bank account groaning at my daring. I wanted to watch everything they had available and that was the only way, and the least expensive way in the long run. The teachings are remarkable, loving and to the point and it has been the best money I ever spent on my spiritual growth. Every year since, I briefly debate if I should continue to spend the money, but, for me, it's a "choiceless choice" (an Eloheim teaching) and I just can't NOT. I've tried. What you get for the money spent is beyond compare. Plus you get up close and personal with the rest of the Eloheim community, bonus!

P.S. I look forward to each and every broadcast and can't wait to get to the recording if I miss the meeting in person. Dorothy in New York
I always longed for honest, respectful, insightful support at hand whenever I needed or wanted it. For a small fee, I have that with Eloheim Channel. Unlike many other spiritual avenues, Eloheim is intimate and available with practical, applicable suggestions which, in my experience, have never failed to achieve results. I don't believe I might ever have given up the habit of familiar suffering otherwise. Veronica Torres offers herself to this channel with integrity and transparency as she takes the journey to homo spiritus along with us. Subscribing to Eloheim…priceless. Mary in LA
_____________________________________________________________
Basic subscription – $20 per month or $199 annually
WATCH OUR SESSIONS LIVE ONLINE
ON DEMAND replay of the audio and video from our public channeling sessions, watch or listen without downloading!
You can also download the audio and video files to your computer.
Annual payment
Monthly Payment
$20 at sign up, $20 each month thereafter, automatically billed via PayPal
_____________________________________________________________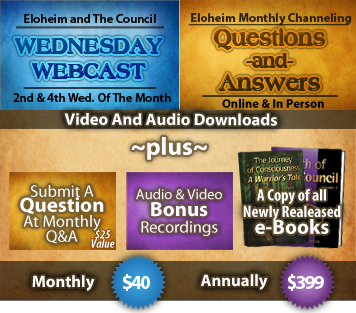 Master subscription – $40 per month or $399 annually
WATCH OUR SESSIONS LIVE ONLINE
ON DEMAND replay of the audio and video from our public channeling sessions, watch or listen without downloading!
You can also download the audio and video files to your computer. ($20 value)
Ask a question at the monthly Q&A with Eloheim ($25 value)
Ebooks and other products as they are created – Conversations with Eloheim, Eloheim Answers, Power Point presentations, and more!
Annual payment
Monthly payment
$40 at sign up, $40 each month thereafter, automatically billed via PayPal
_____________________________________________________________
SUPPORTER
This plan is a way to support the continuation of The Council's teachings being offered online (YouTube videos, newsletters, and website posts)
_____________________________________________________________
YOU CAN ALSO MAKE A ONE TIME DONATION OF ANY AMOUNT
QUESTIONS? EMAIL [email protected]
---
---