Join us for our 2014 retreat
with Eloheim and The Council.
October 6-9, 2014
at the beautiful Westerbeke Ranch in Sonoma, CA.
Join us for our third annual, 4-day intensive retreat held at the Westerbeke Ranch in Sonoma, CA.
This event will be held from October 6th through October 9th, 2014.
Personal transformation and healing!
Amazing meals!
Gorgeous setting!
Incredible people!
Breakout groups!
FOUR channeling sessions!
Don't miss this opportunity to interact with Eloheim and The Council in person!!
This was the best time of my current life… surrounded by the most loving and open people, the opportunity to dive deep into my own truth with Eloheim's help… basking in the different energies of The Council members and being able to experience "miraculous" energetic shifts in my human body due to the sacred space this fabulous group created and held through the entire retreat … THANK YOU ALL AGAIN!!! ~ A.L. Germany (Speaking about the retreat in Austria)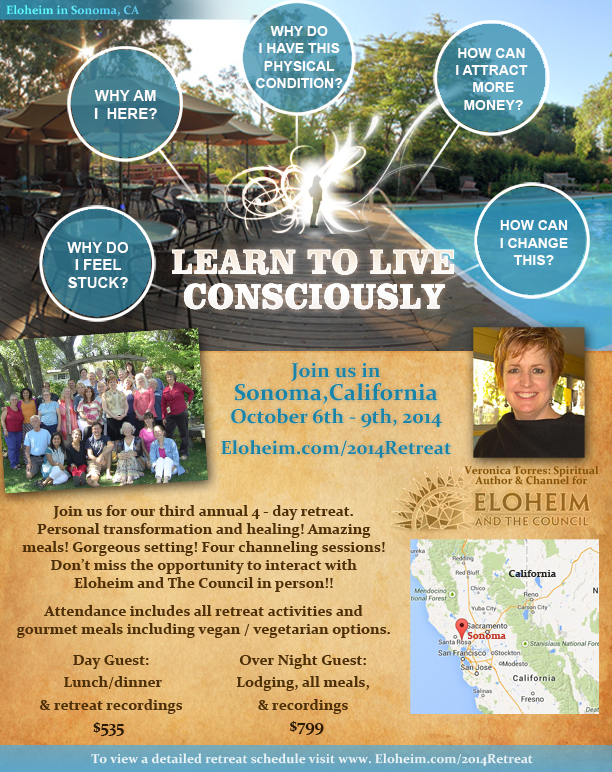 Read stories from retreat participants at the bottom of this page
Schedule
Monday, October 6
4:00 Arrival and check in
4:00 – 6:30 Meet and greet
6:30 – 7:30 Dinner
8:00 – 9:30 Opening channeling session
Tuesday, October 7
8:00 – 9:00 Breakfast
10:00 – 12:00 Channeling session
12:30 – 1:30 Lunch
2:00 – 3:00 Karla Quello will provide a Self Care Class. This session will explore what fascia is and how we can work with this three-dimensional web for long term relief. We will use several self-care tools to help relieve pain or uncomfortable pain patterns that are present in your body while connecting to your fractal self.
3:30 – 4:30 Margy Henderson will offer a sound healing experience. Get comfortable, set your own intention, receive lovingly offered sounds of Peruvian Whistles, Himalayan bowls, bells, drum, dijeridu, and Margy's oddly useful vocal sounds. Drop into altered states and follow your visions.
5:00 – 6:00 Mary Yoon will lead a Ho'oponopono ritual. A very potent and powerful exercise to let go of baggage. The word means "to make right" (twice) in Hawaiian – meaning forgiveness works best when it's going both ways. This technique has been recognized by the United Nations and has enjoyed universal success.
6:30 – 7:30 Dinner
8:00 Mary Yoon will lead a Moe Uhane, Hawaiian Dream Chant
This very relaxing chant/mediation opens a channel for homo spiritus. It invites ancestors and others to enter us to help us change, transform and to turn on the light inside our na'au or central core for healing. Wear very comfortable clothes or pajamas for this session.
Wednesday, October 8
8:00 – 9:00 Breakfast
10:00 – 12:00 Channeling session
12:30 – 1:30 Lunch
2:00 – 3:00 Hayat Bain will share Dances of Universal Peace!
If you can talk you can sing these songs and chants, and if you can walk you can dance the Dances of Universal Peace. No experience nor music or movement expertise is necessary. Each song and dance is taught as if all participants are beginners. The DUP emphasize participation rather than performance, using powerful, heart opening ancient and new phrases from all the world's cultures, evoking inner peace, love of self and others, unity, forgiveness, joy and gratitude, amongst many other universal themes. The Dances are a way to more fully ensoul your body! You'll find you're more open-hearted and deeply interconnected with each other, enabling the remainder of the retreat to be even more expansive and amazing!
3:30 – 4:30 Margy Henderson will lead a Toning Circle – This is an opportunity to grow in resonance with ourselves and each other. Resonance is being in harmony, balance and alignment with the sacred pulse of authentic reality. We will use our own voices as built-in healing apparatus. Toning together creates a field of mutual well-being.
5:00 – 6:00 Kerri James will offer insights and instruction for using the Create Your Reality Deck and the Levels of Creating to "level up" your issues. Drop old patterns and live your life in a brand new way! You do not have to own the deck to participate in this session. Decks will be available for purchase.
6:30 – 7:30 Dinner
8:00 – 10:00 Share your gifts show (As in something like a talent show but less triggering!) This was such a hit at last year's retreat. We laughed long and loud. I can't wait to see what folks offer this year!
Thursday, October 9
8:00 – 9:00 Breakfast
10:00 – 12:00 Channeling session
12:30 – 1:30 Lunch
2:00 – 3:00 Closing circle
3:00 Check out
San Francisco (SFO) and Oakland (OAK) are the closest airports and both are about 90 minutes drive away. If you have a choice,I STRONGLY RECOMMEND OAKLAND AIRPORT. The drive is much easier as it's almost all freeways whereas the drive from SFO is through San Francisco before you get to the freeway and SFO is often affected by fog which delays flights.
We have private Facebook group for retreat participants. Last year folks got to know each other that way and also arranged shared ground transportation ahead of time. It's a lively forum that I visit multiple times each day. You will be added to that group (if you wish) when you submit your reservation.
OVERNIGHT Guests receive:
Three nights lodging
Nine amazing meals
All activities
Recordings of all channeling sessions!
$799
Payment in full
Payment is non-refundable. If circumstances prevent you from attending, 75% of payment may be applied toward our other offerings.
~~~~~~~~~~~~~~~~~~~~~~~~~~~
DAY Guests receive:
Six amazing meals (Lunches and Dinners)
All activities
Recordings of all channeling sessions!
(NO lodging, NO breakfast)
$535
Payment in full
Payment is non-refundable. If circumstances prevent you from attending, 75% of payment may be applied toward our other offerings.
So, How was the Retreat? Eh, it was so so…SO SO AWESOME!
Read about John's amazing transformation on his blog.
I have to say, the energy at the retreat was so high and intense the whole time that my old patterns of thinking about what the others where thinking of me would try to surface but immediately I had no resonance with that state and it felt like Teflon they had no sticking power. I truly experienced my life without that big thing for sure. I felt like I was in a huge bowl of love the whole time it was sooooo nourishing that I felt I didn't even need to eat, although the food was so good I had to partake.
I attended the retreat spiritually and transformed – I watched the recordings and transformed further and deeper…

Today I watched myself taking my truth into the world – calm, open, neutral, vulnerable, clear, fascinated and somehow deeply happy – I felt deep love for everything I've seen, touched, heard and did, for my body and life in general … truly a transformed state of mine …

Uncertainty did NOT scare me today, it has shown me its fascinating beauty of infinite possibilities and I am sure I have a crush on it already.
Now home, I realize even more how special the retreat energy was……very grateful to the group.
I felt real joy being with a group of such super-lovely people — and I truly wish I could have spent many more weeks getting to know you all better. So a big, BIG 'thank you' to everyone for a fun and wonder-ful experience!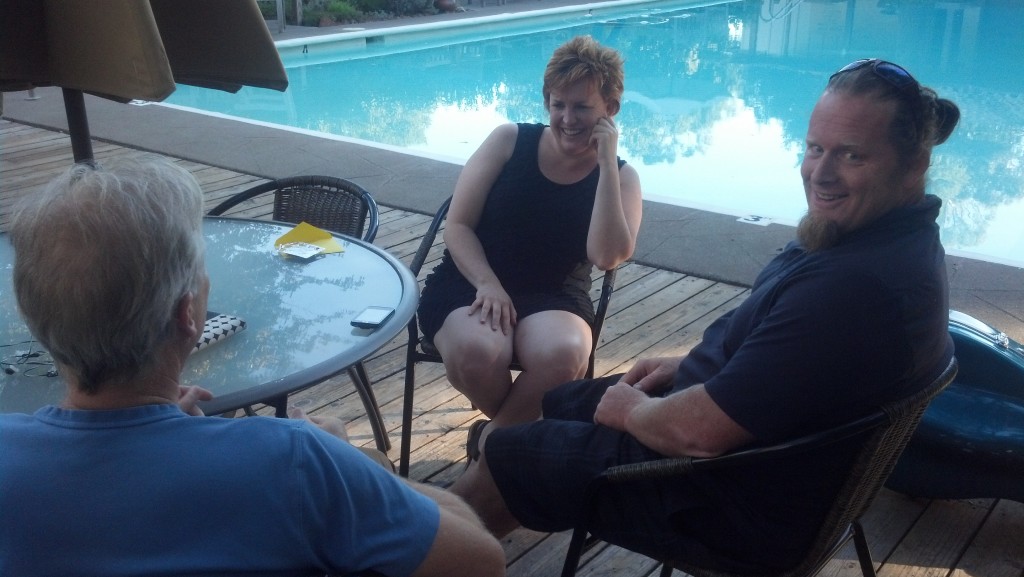 "Bob and I both had such a wonderful time…everything about our time at the retreat was perfect. The people, the channelings, the fun, the laughter and the ranch itself. Even the intense moments felt perfect. Thank you for creating this beautiful time for us with Eloheim and to meet and get to know some of our far flung tribe."
"Hi there, I'm going through the retreat recordings and I'm blown away with how connected I feel. I've been laughing, crying and journeying with you all…….thank you all so much for this opportunity. I love you all as family." Jo from the UK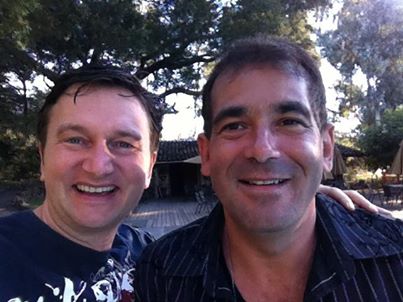 For the past couple of months the soles of my feet have hurt a LOT, especially the right one …. all the way up to my right hip leaving me limping in the mornings.

BOOM … It's gone. It wasn't there during the retreat and I only just noticed it's gone …..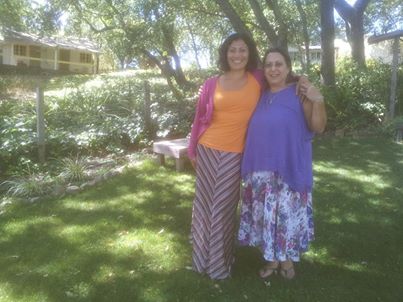 Watching John on the chair and starting to cry, overwhelmed by the love I could feel …WOW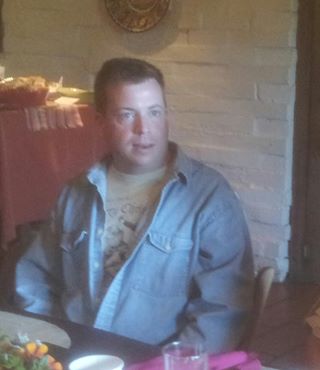 Just watched the opening session. I saw & heard things my mind missed opening night.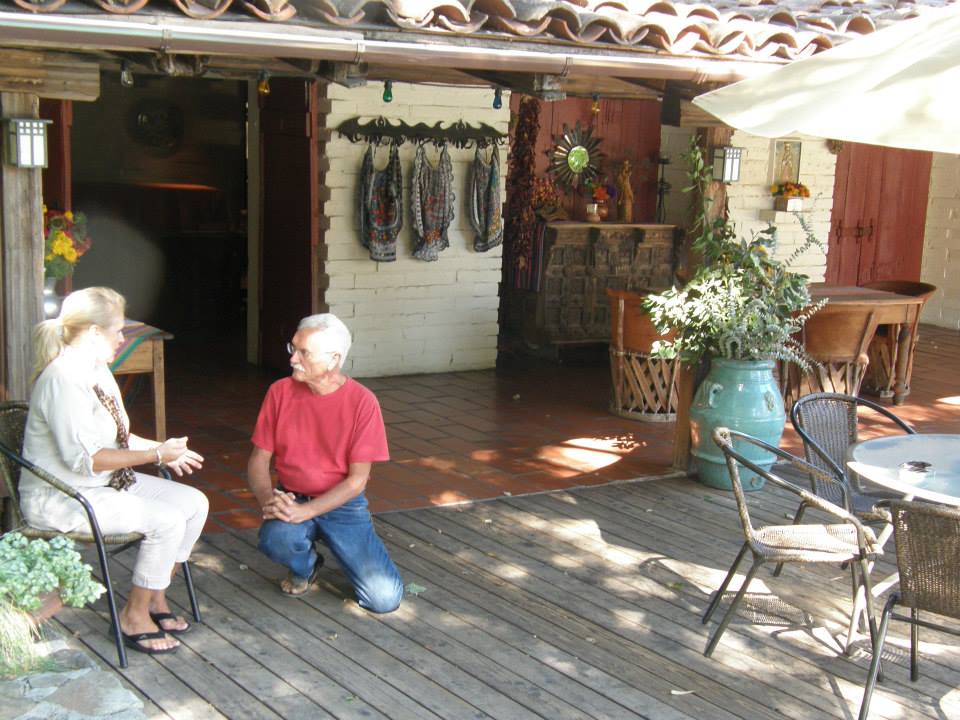 What a Love-fest and Consciousness blast! I am SO grateful to be part of this collaborative new way of being ME. I noticed this morning that I shifted into a physically felt sense of eternal love with many of you at retreat. Loving you in a general, like-alot way gave way to gate-latch moments that let me know that the links between our hearts dropped from theory, belief, trust and into knowing the 'forever' nature of a personal love for a near stranger.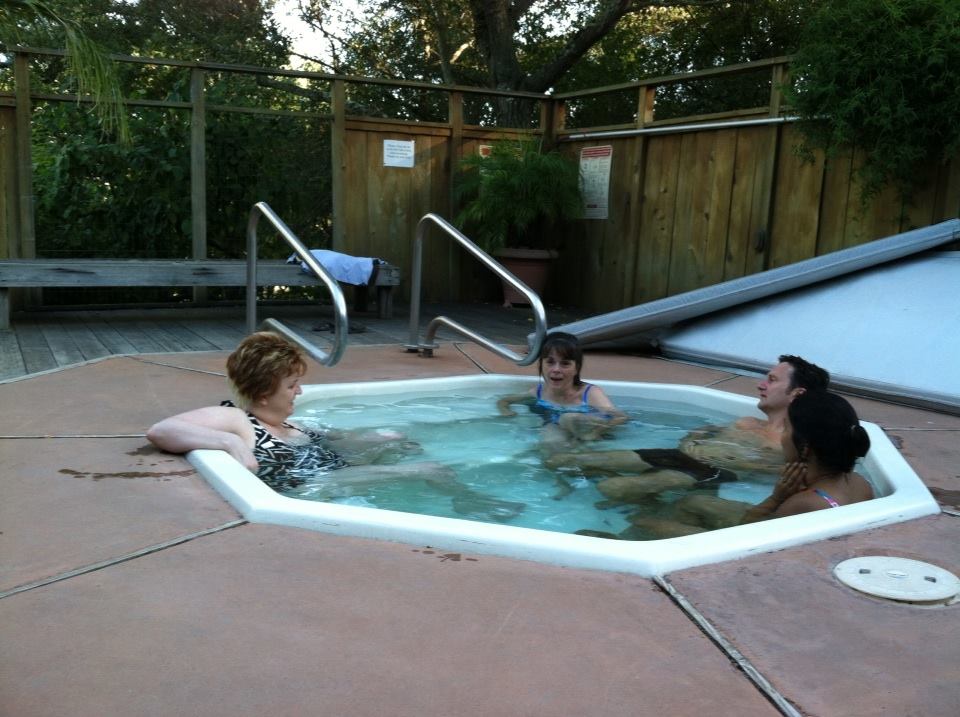 I just started listening to the recording and in just a few minutes The Guardians said so much, I am awestruck!!
I feel like I'm relearning everything I previously understood but from a new point of view as I watch my friends and fellow Heart Workers saddle up and break through patterns that I see in myself. There are so many layers to explore in the experience of participating through watching this. We are more alike than different in a lot of ways. Next time I get nervous around people I will remember seeing that everybody has a vulnerable place inside.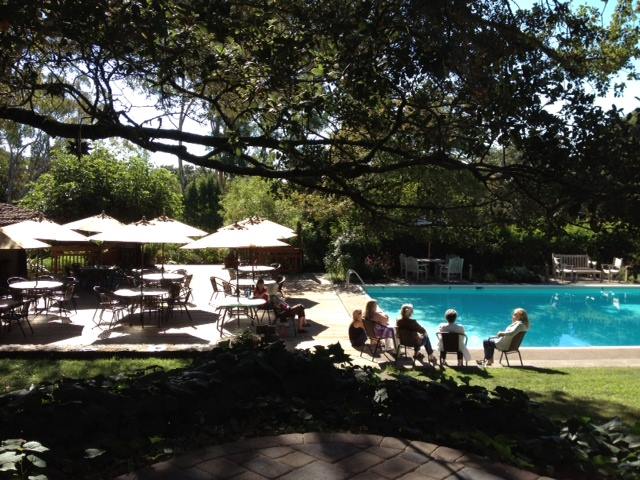 I've watched bits here and there so far and it's just like being there again…being in the presence of such massive heartfelt truth, inspiration and laughter. (I laughed just as hard this time as I did the first time that Mary G told her "closet" story!) Looking forward to a thoughtful in-depth review of it all.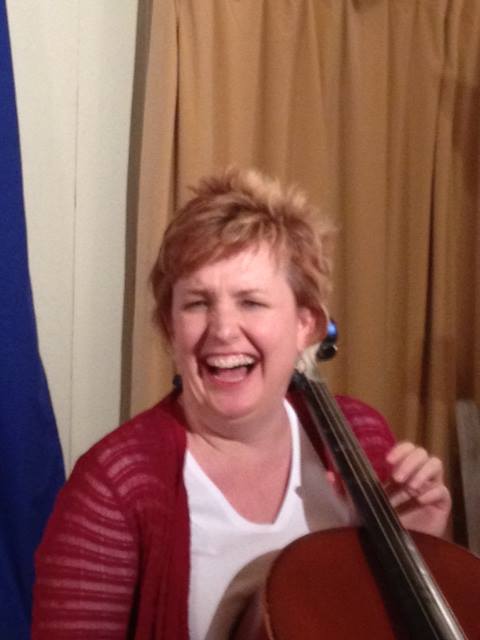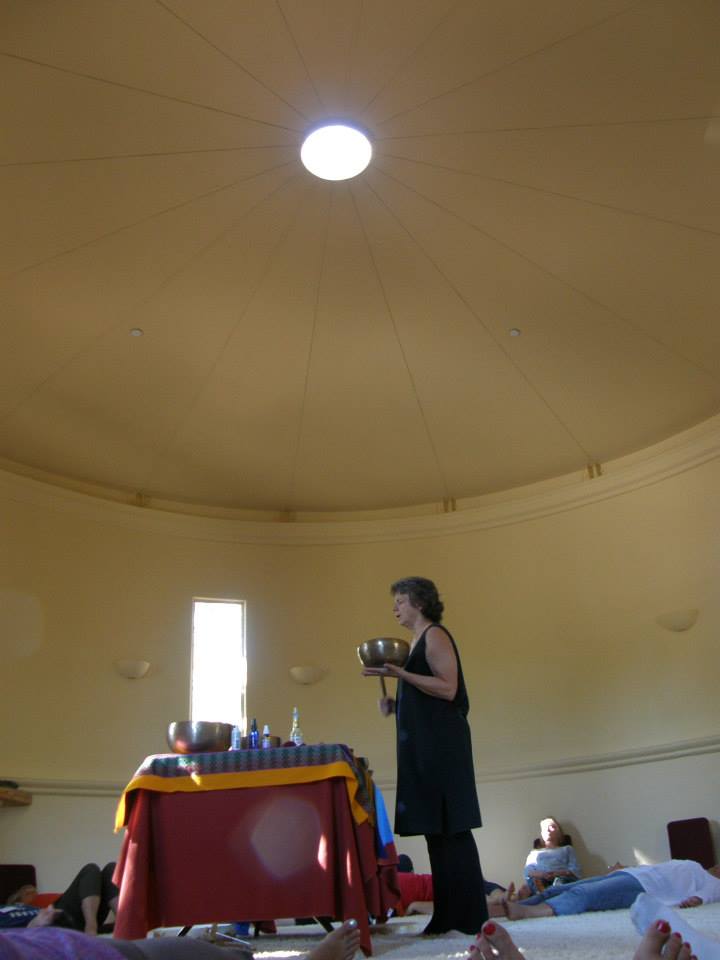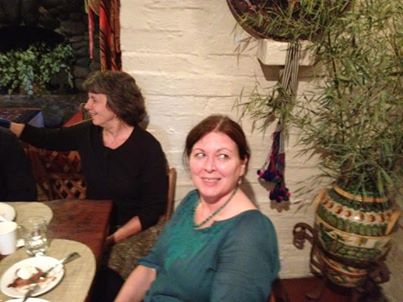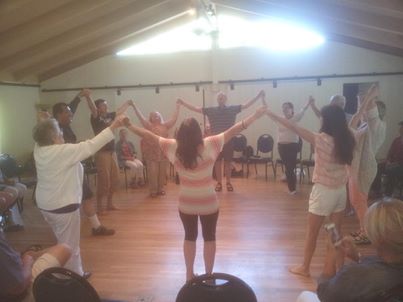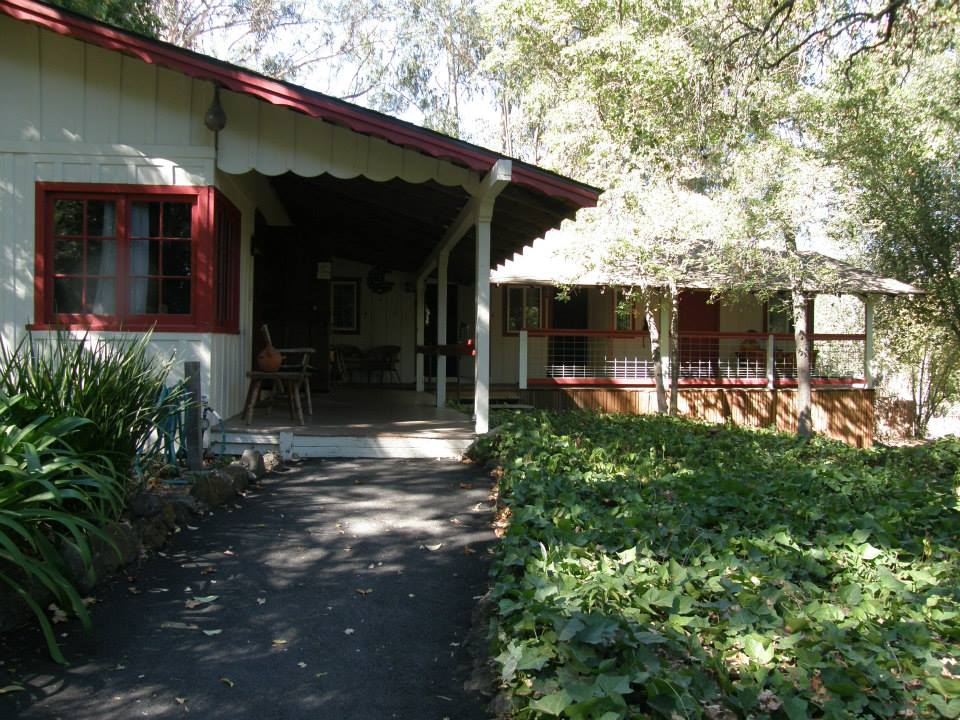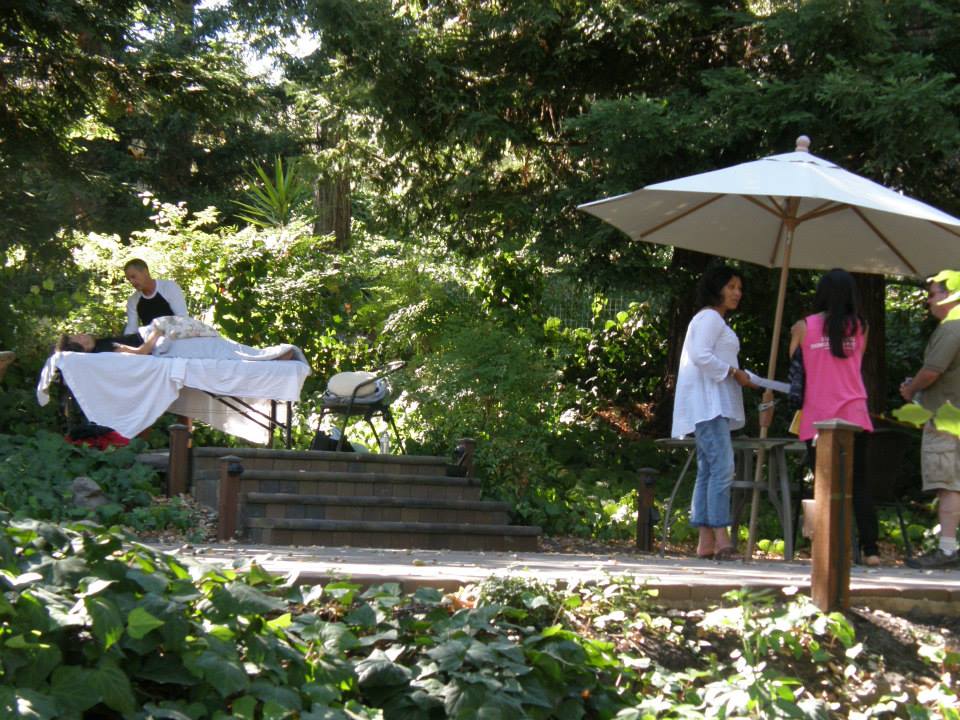 Facilitators of the Break Out groups
Hayat Bain is a certified leader of the Dances of Universal Peace, and has been dancing and playing flute and hand drum for the DUP for 15 years and leading Dances at various types of events with newbies and experienced dancers alike for 7 of those 15 years. Sharing the DUP is one of Hayat's greatest joys and the Dances as a practice have been a significant support for her healing and transformation. She invites you to join her in connecting heart-to-heart and hand-to-hand with your fellow retreat participants. It won't be scary! It's fun! Visit www.dancesofuniversalpeacena.org to learn more. There are some inspiring videos of the DUP on this website. And if you have the 2013 Eloheim retreat recording, you can see the fruit of the group experience at the closing circle, as we shared the dance, "Healing Time".
After 17 years of experiencing chronic neck and shoulder pain, Karla Quello, owner of Q Bodyworks, found freedom in her body through Myofascial Release. Karla brings over 15 years of massage therapy, Myofascial Release training and personal experience to the table.
Karla has a passion to help others feel good in their own bodies for short or long term pain relief, as well as, educating her clients.
Myofascial release is a whole-body approach that works with the all-encompassing three-dimensional web within our bodies. This web, or what we call fascia, does not show up on standard medical tests. MFR transforms your body to move more freely and connect you to your essence through structural work, rebounding and unwinding with long lasting results!
Website: www.QBodyworks.net
Contact: karla@Qbodyworksmfr.com
Mary Yoon, Ph.D. Clinical Hypnotherapy and Trainer of NLP Has trained doctors, chiropractors and psychologists in use of hypnosis. Private practice concentrated on sexual abuse issues.

Margy Henderson is a sound healer with 20 years of experience. She has been leading toning circles for 11 years and is also a Spiritual Death Midwife, Home Funeral Guide, Barber, and a quite wonderful Hand Analyst.
Kerri James is a graphic designer and a long term student of the Eloheim teachings. She and Veronica developed the Levels of Creating Deck together.