Tools for Conscious Living
from Eloheim and The Council
Enjoy your instant "tool for the day" reading with our Tools for Conscious Living cards.
Click anywhere in the deck to select a tool card. The deck will be shuffled and you will be shown the tool card that ended up at the spot you selected. Focus on using the tool on the card throughout your day.

Order the expanded set of tool cards! 53 cards total! One for each tool in the three Choice for Consciousness books.
Choice for Consciousness Tool Cards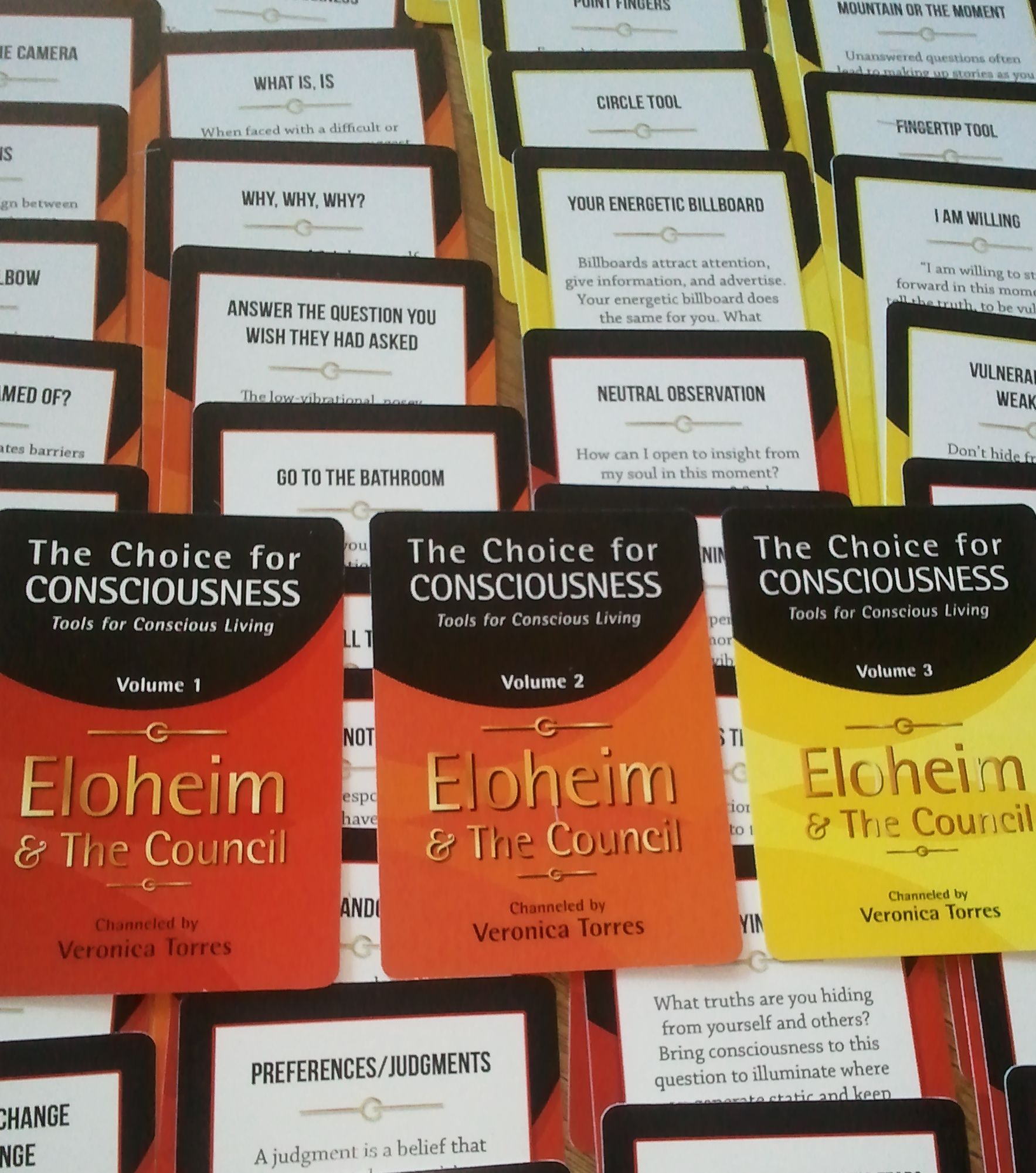 Order the ebook! 53 tools!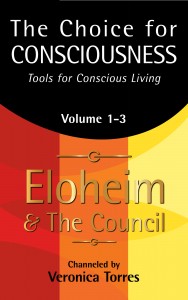 Eloheim is best known for their dozens of easy-to-apply tools that offer life-changing support for personal transformation.
53 of Eloheim's tools are now in ONE ebook.
The Choice for Consciousness: Tools for Consciousness Living series offers step-by-step tools to show you how to break unhealthy habits and discard victim mentality so that you can fully embrace the truth of the statement, "I CREATE MY REALITY!"
Volume one of the series contains 22 tools which help you recognize where you are experiencing victim hood. With that awareness, you can begin to live as a creator.

Volume two's 16 tools help you to live as a creator of your life by illuminating your relationship to the moment. This will empower you to create the life you have always dreamed of.
Volume three includes 15 tools to help you learn to fully take responsibility for your reactions to your creations thus living the life of a creator. The tools fall into four categories: • Readiness for change • Managing your energy • Seeing things a new way • New relationship to money
Order below to start changing your life IMMEDIATELY!
It is tools for everyone, for real life, real situations and real people that can be put into practice by anyone who chooses to do so, no matter where you are in life. The book is a complete universe all to itself where everything is clarified for ease of use.
Written with warmth and humor in a contemporary language makes it accessible in a profound way. Eloheim and the Council take you step by step and as a result your life slowly transforms into something more enjoyable and who does not want less drama and more serenity in their lives?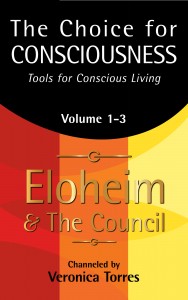 53 of Eloheim's amazing tools for personal transformation


FREE with ebook purchase!
A 90 minute video of Eloheim discussing the tools!
About Eloheim:
Eloheim has been with us since the beginning. They were tasked by the creator to provide an opportunity for Souls to incarnate into a free-will zone. Our beautiful planet is that place. We have come to the point in our spiritual development where we are ready to make the jump to Homo spiritus. Homo spiritus is a state of bliss that exists outside of duality and allows us to access the full potential of being human; a brand new way to live on Earth.
The journey to Homo spiritus starts with transforming your relationship to yourself and others. Eloheim specializes in reading the underlying energetics in any situation. Once they have that clarity, they create an easy-to-apply tool that can quickly shift blockages. This book is a collection of those tools developed over the last 13+ years. Using the tools you can make powerful changes right now. Changes that last!
Eloheim's practical tools for conscious living will empower you to transform your life, and bring the highest version of you into each interaction.
Working the tools give me a 'handle' on every aspect of life..from triggers to joy. Recently I've worked an Eloheim tool and found my way through layers of frustration to my sense of adventure. Who knew the rapids could be so fun? With tools in my belt I navigate 'each moment'. I feel a sense of purpose, ability, skill, pride and moments of pure bliss…ahhhh.
Veronica reading the Velcro tool from Volume 1
Preview of your bonus video!
Perhaps the thing I like the most about the Eloheim is their teaching drips with actionable clarity that does not shy away from (and is indeed unflinchingly based on) the unvarnished realities of real life challenges. Eloheim does NOT suffer from fluffy heavenly prose that quickly proves less than adequate in arming you to deal with the heat and messiness of the very earthly human life situations we encounter. No situation is too small or too trivial to merit engaging with consciousness either. It's clear that Eloheim deeply AND compassionately understands the human experience in its highs and lows. The value of this cannot be overstated.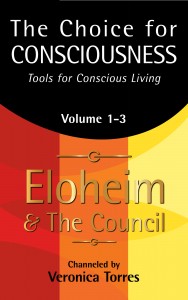 53 of Eloheim's amazing tools for personal transformation


FREE with ebook purchase!
A 90 minute video of Eloheim discussing the tools!
You will receive the ebook as a PDF file, a kindle file, and an epub file. Read whichever works best for your device(s).