The year of change and new beginnings
Incredible transformation across the spectrum.
Stay emotionally and intellectually nimble.
Connect deeply to your personal truth and what you choose to focus upon.
There will be many pulls on your attention.
What parts are truly your passion, where you feel drawn to put your energy into it?
Trust others to pick up the pieces you can't pick up.
Milestone year in the history of your history.
Get prepared to be the person who is the calm at the center of the storm – energetic leader.
"Everyone chipping in gets the barn built."
The evolution to Homo spiritus will be tangible and requiring your focus so things don't distract you from it.
Commit to evolution on a new level – it's never been this accessible.
Society – 2019 is the year of change. You must be nimble.
Where do you feel rigid? Where are you saying "This is the way it's supposed to be"? Do these stances actually reflect the truth of you as an evolving human?
Change is how things change.
Examine how you personally relate to things changing, when things are unexpected, and when things are new.
2019 is a year of new beginnings. Be nimble.
Trust and rely on the navigational beacon of your character.
Put all the work you have done on yourself into play – tangible, actionable, movable reality.
Strong chance that there will be at least one if not two large discoveries – scientific type discoveries – probably later into 2019 that will revolutionize your world.
It's a serious year, be nimble! When pushed into a new situation, some people retreat into a rigid, defensive reaction and seek a return to "how it was."
Be nimble in change, look at it with brand new eyes. Ask, "What can I bring to this now, to this change? How can I treat this change as a doorway?"
2019 is going to ask something of you, that doesn't mean you won't also feel like you are getting a lot.
Each "ask" is a doorway for you to walk into your evolved state.
The challenge of 2019 – When change presents itself will you be nimble enough to see it for the doorway it is the doorway into evolution, the doorway into progress, or will you retreat into a rigid reaction that will require you to spend energy, time, resources before you can go back to looking for the same doorway?
The doorway and the pit of rigidity are both there. Which will you choose? Be nimble!
It's an incredibly shifting time!
Change is something you have to become accustomed to.
Join our evolutionary journey! Sign up as a subscriber today to access our online broadcasts (live or on demand) – four each month!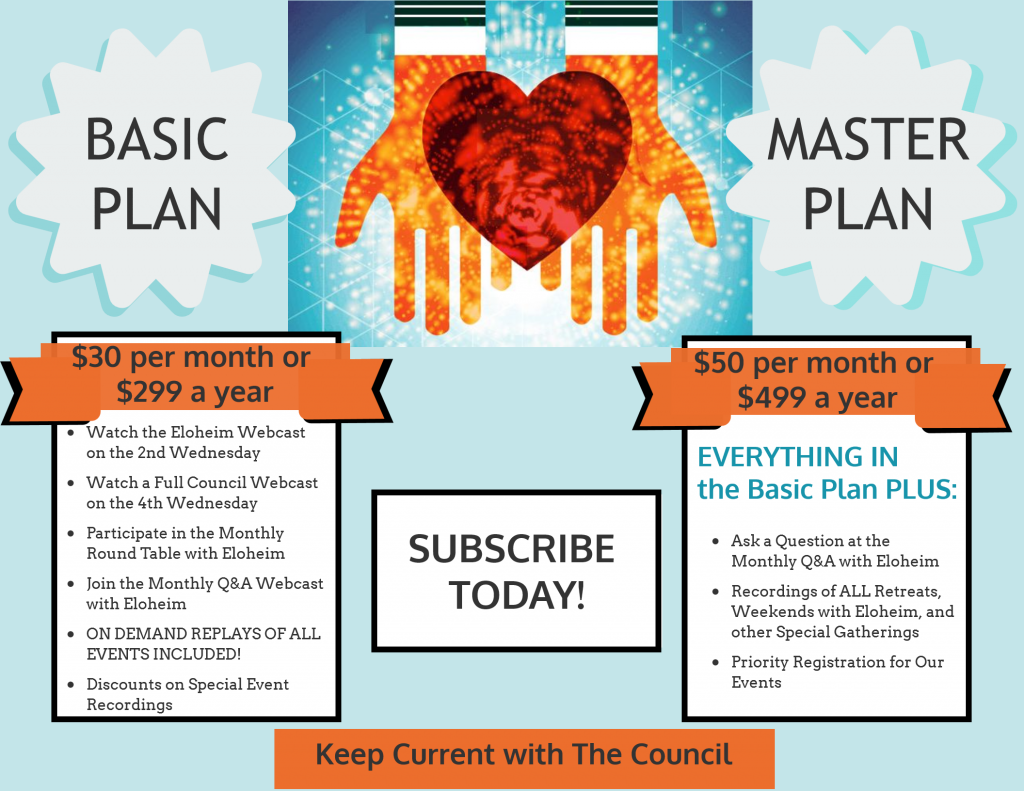 _____________________________________________________________
Subscribing means you will never miss a meeting! Your monthly subscription renews automatically on the same day each month, so you can subscribe anytime. Annual plans run for one calendar year from the day they begin. Start anytime! You will get a full 12 months of meetings!
Eloheim and the Council are teaching Empowered Evolution offering instruction on an entirely new way to experience being human.
_____________________________________________________________
Becoming an Eloheim subscriber was truly the most valuable investment I ever made in myself. It was a commitment to my personal growth that I've never regretted and it helped me stay the course through many difficult and discouraging times. Kate in Canada

I became a subscriber out of curiosity, not knowing that I was beginning a journey. I've learned so much about myself, bringing along and integrating parts of me I didn't even know were there. I feel like I have learned tools that can get me through anything. I really enjoy the videos and the recordings, and it seems like there is always a new one when I am ready for it. I am just so grateful to have followed that inner urge and joined a wonderful community. Sara in California

"There are a lot of spiritual teachings out there, but Eloheim is different. If there is more down-to earth and day-to-day applicable advice from a soul's perspective, then I have yet to find it. Listening to the meetings recordings has become an invaluable part of my life, as it supports and accelerates my personal development in a way that feels more fitting and simply 'right' than anything else I have experienced. If you want to replace 'fear' with 'consciousness' in your life, this experience shows you the way!" Christian in Austria
_____________________________________________________________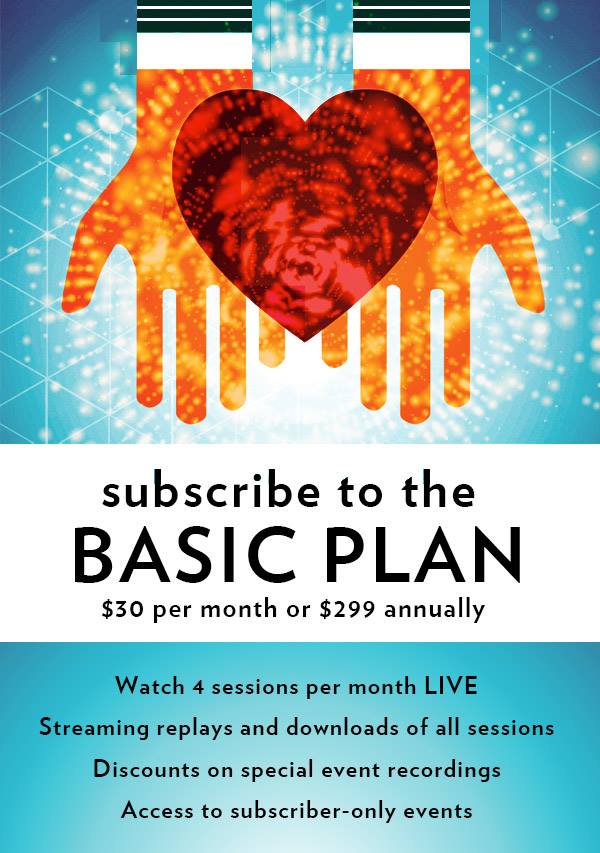 Basic subscription – $30 per month or $299 annually
Annual payment
Monthly Payment
$30 at sign up, $30 each month thereafter, automatically billed via PayPal
_____________________________________________________________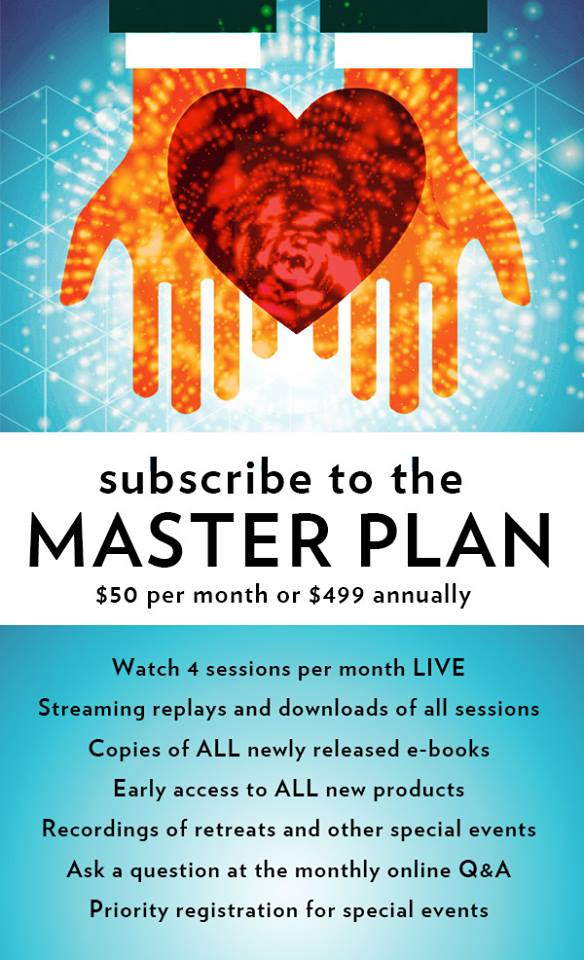 Master subscription – $50 per month or $499 annually
Annual payment
Monthly payment
$50 at sign up, $50 each month thereafter, automatically billed via PayPal
_____________________________________________________________
Becoming a subscriber was first choice for me, there was no other option. The material caught me straight away with it being incredibly practical and down to earth. And hey, there is so much fun and laughter involved. Being a subscriber is my commitment to my spiritual growth, together with like minded super caring and loving people. Supporting Veronica is an affair of honour for me. What I get in return is priceless. The wisdom and guidance of Eloheim changed my life to the core of my being. The best investment in myself ever! An Ja in Germany
I've really enjoy being a subscriber. Considering all the extras we get, it really is amazing value … much better value than many other spiritual growth or personal development programs I've subscribed to. What is great about subscribing is knowing that there is this continuity of learning how to bring more of my Soul into my human experiences. Maya in the UK
I have never felt so centered & on track. My subscription keeps me in touch with the latest information from the comfort of my home. Mark in Florida
I subscribed for the first time several years ago, my bank account groaning at my daring. I wanted to watch everything they had available and that was the only way, and the least expensive way in the long run. The teachings are remarkable, loving and to the point and it has been the best money I ever spent on my spiritual growth. Every year since, I briefly debate if I should continue to spend the money, but, for me, it's a "choiceless choice" (an Eloheim teaching) and I just can't NOT. I've tried. What you get for the money spent is beyond compare. Plus you get up close and personal with the rest of the Eloheim community, bonus!

P.S. I look forward to each and every broadcast and can't wait to get to the recording if I miss the meeting in person. Dorothy in New York
I always longed for honest, respectful, insightful support at hand whenever I needed or wanted it. For a small fee, I have that with Eloheim Channel. Unlike many other spiritual avenues, Eloheim is intimate and available with practical, applicable suggestions which, in my experience, have never failed to achieve results. I don't believe I might ever have given up the habit of familiar suffering otherwise. Veronica Torres offers herself to this channel with integrity and transparency as she takes the journey to homo spiritus along with us. Subscribing to Eloheim…priceless. Mary in LA
SUPPORTER
This plan is a way to support the continuation of The Council's teachings being offered online (YouTube videos, newsletters, and website posts)
_____________________________________________________________
YOU CAN ALSO MAKE A ONE TIME DONATION OF ANY AMOUNT
QUESTIONS? EMAIL ELOHEIMCHANNEL@YAHOO.COM
---
---