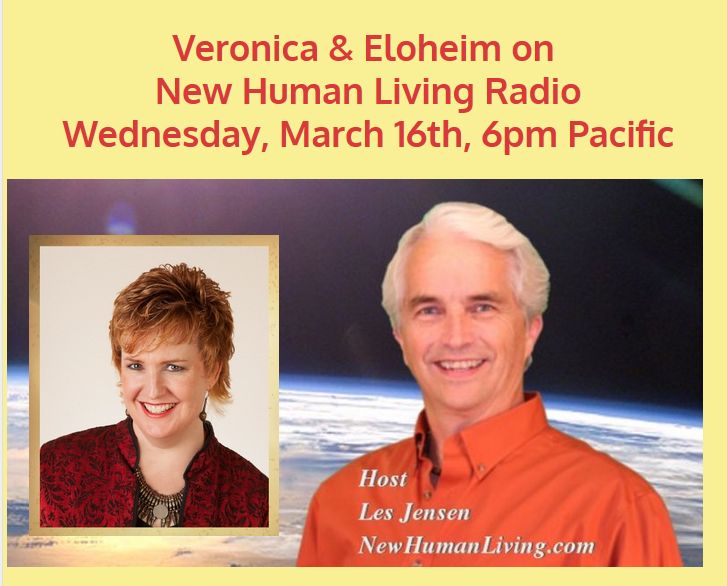 Same show on YouTube if that's easier for you
Blog Talk Radio Interview with host Les Jensen
March 16, 2016
The Simple and Eloquent Teachings of Eloheim through Veronica Torres
During this second great interview of the day, Les was full of interesting questions, first, for Veronica and later, for Eloheim.
Veronica explains to Les that Eloheim teaches us how to move out of our self-imposed limitations into our full potential, with the help of the simple tools Eloheim has devised over more than a decade of teachings. Veronica says the teachings show us how to be in the "now" moment in a positive and healthy manner.
Les: How have the teachings touched you
, Veronica? Why do you call them "they?" What do you think about all this, ie time and space, puppy dogs, and radios shows (said with tongue-in-cheek humor)?
At this point, Eloheim gave a brief and loving message to the listeners, declaring they are so impressed by us all. Coming to Earth, they said, is a very intense experience that requires bravery. Eloheim described their work with humanity, "That you create your reality through how you choose to react to the moment you're in." Is your reaction conscious or habitual? That is the perfect time to use the tools.
Here are some the many questions Eloheim answered for Les:
When you look at humanity, do you notice an enormous amount of change?
What about the media, politics, and fear, how can we be positive?
How do you see the collective unfolding, time-wise?
Eloheim, are you here for many generations? What did you sign up for?
Who is your ideal client?
What would you tell humanity as a whole at this time?
Don't miss this replay, it's a fascinating listen with new information for everyone!