Thanks to Google for the definition
Being in Europe and hanging with all the multilingual folks made me aware of words in a new way. I like this word audacity. It came to mind as soon as I realized that someone looked at this mountain
and said, "We want a convenient way to go to the top of that mountain on a regular basis."
It's about 8000 feet high. Otherwise known as "no problem."
They have a cable car that takes you up there.
Well, they call it a cable car.
THIS is a cable car!

In Austria, THIS is a cable car!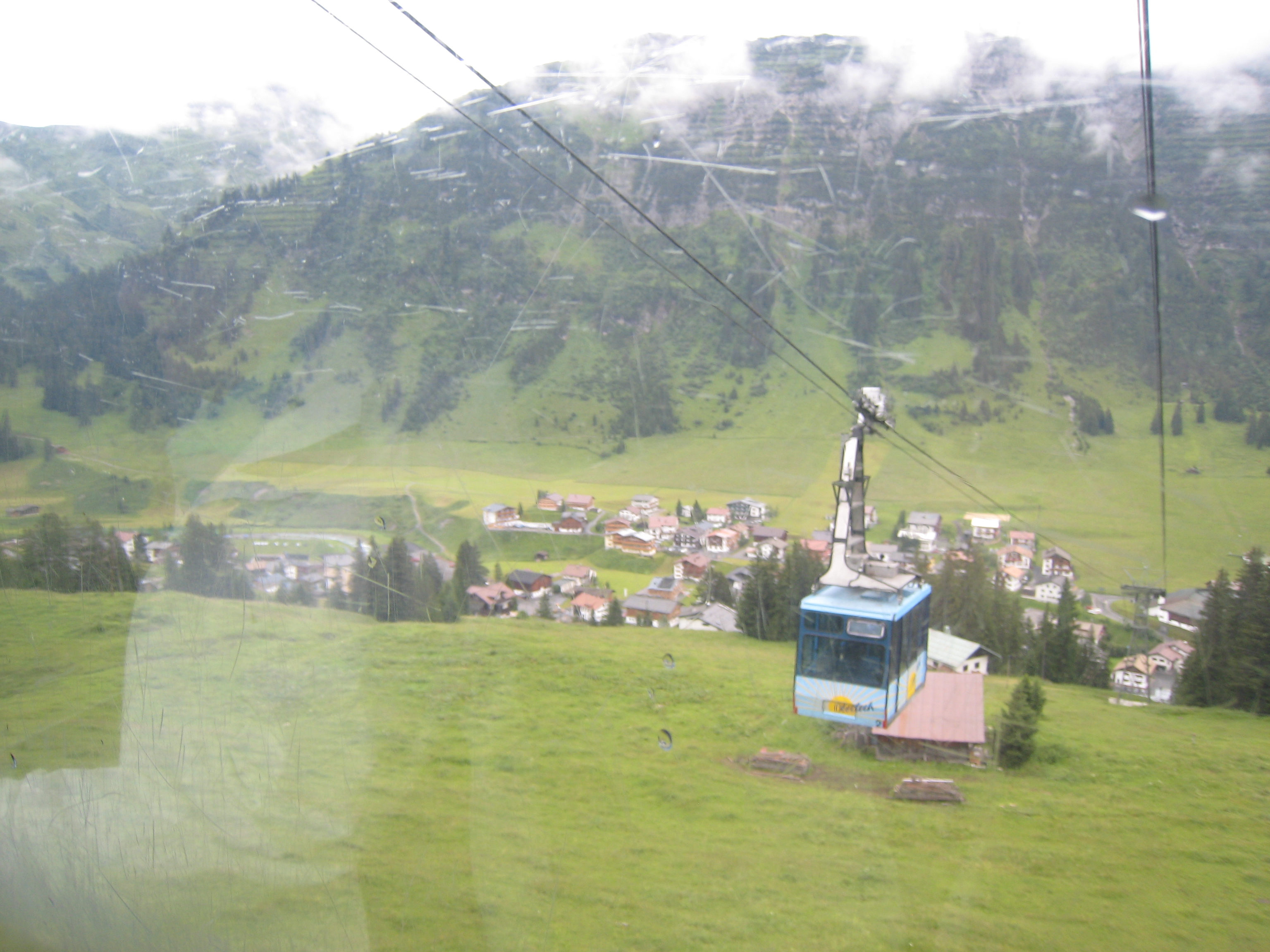 Which we call a Gondola!
They told me that this is a Gondola!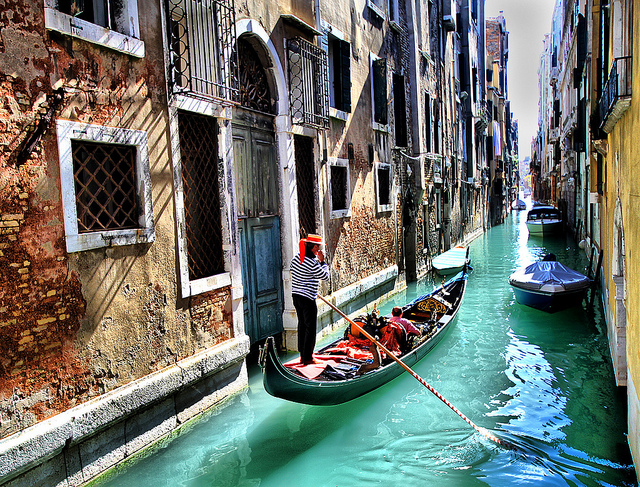 Which of course it is!
Now that that is all cleared up, let's move along shall we???
The Lech area is full of cable cars and chair lifts which take skiers and hikers all over the mountains.
Here is Eloheim seeing one for the first time.

My schedule in Lech was:
Wake up
Get ready
Eat
Channel
Eat
Sleep
Eat
Fit in some fun
Sleep
The fit in some fun part was a bit of a challenge. Channeling really takes a lot of out of me and I need a lot of rest. Folks were doing fun stuff like this: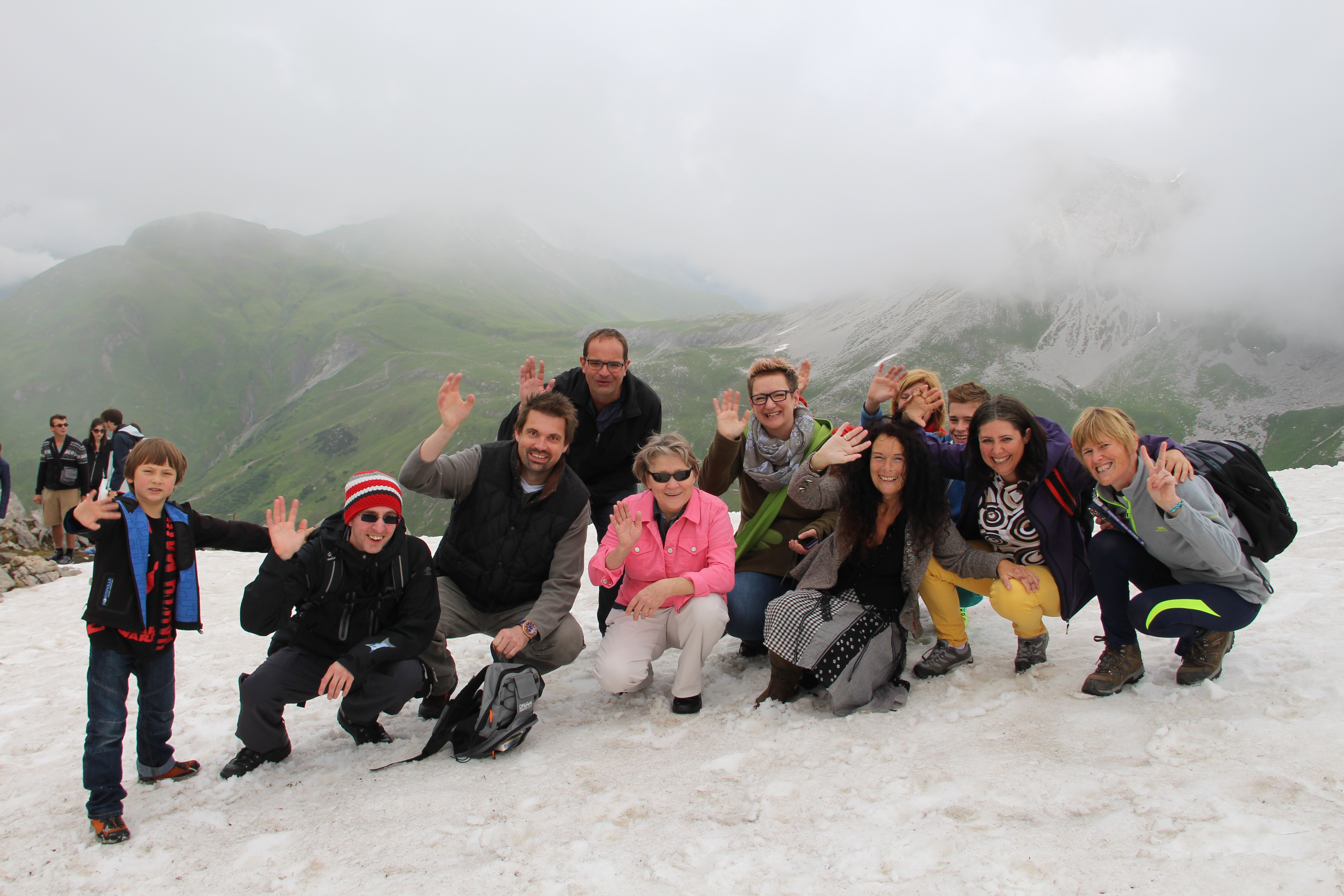 and I wanted in on it! However, the cable cars stop running at 6pm and that wasn't fitting into the above schedule as the fun part was after the 5 course dinner (around 8-9pm). HMMMMMM, I was tempted to feel like I as going to miss out.
Thankfully, Michael, Saira, and Mary sorted out that if I went on the cable car right after breakfast, I could get back in time to channel!!! Yeah! Off we went.
::memory giggle::
Mary had done the gondola, I mean cable car, ride the day before and was the tour guide. Thank GOD she had done it before because we barely figured it out even with that head start!
First we rose the CC down from our hotel to the town of Lech.

Looking back at the hotel

Pretty sure the webcam I mentioned in the last post is on this tower

Bobsled biking trail??? Who knows???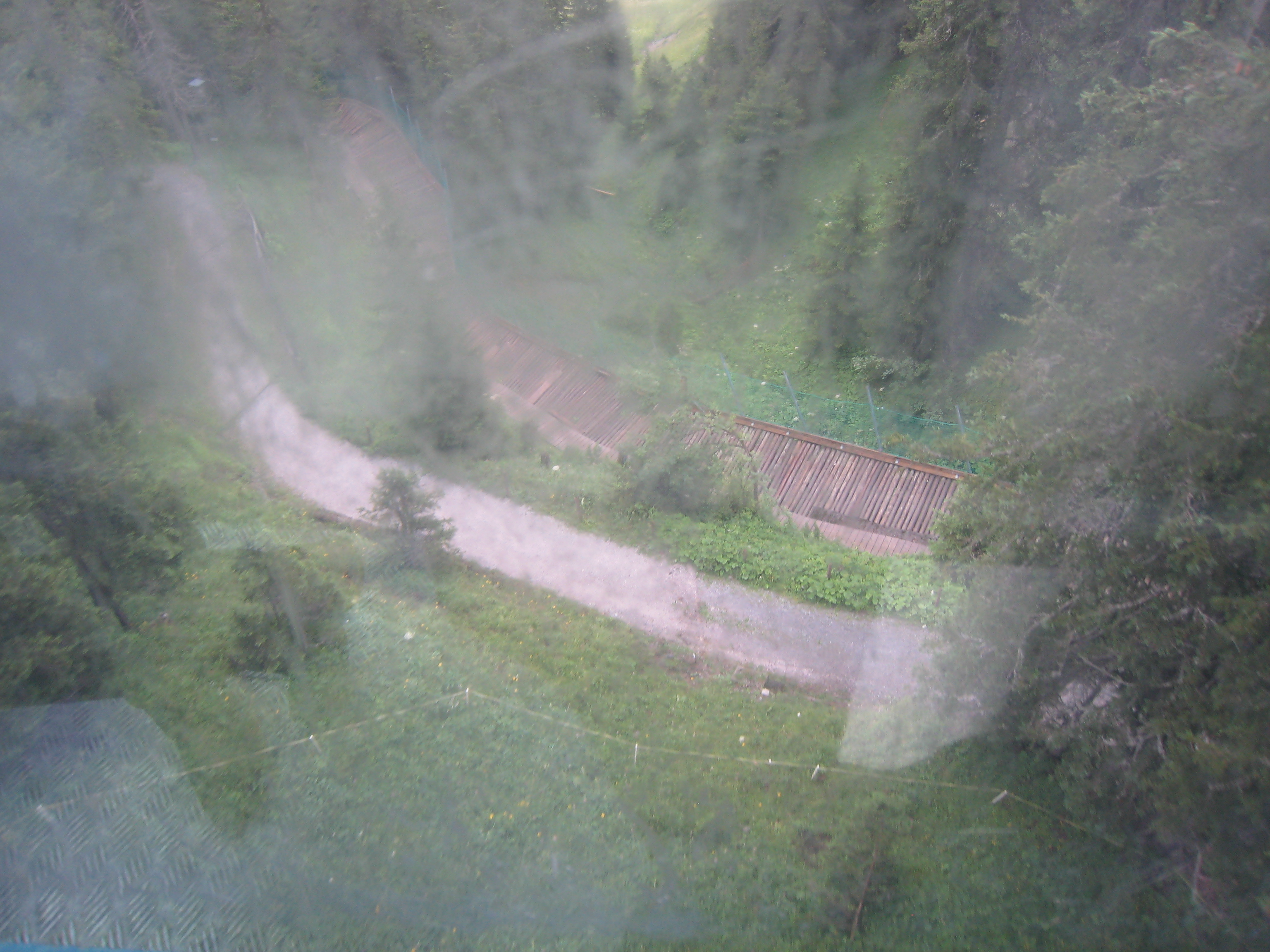 Coming into town

Town!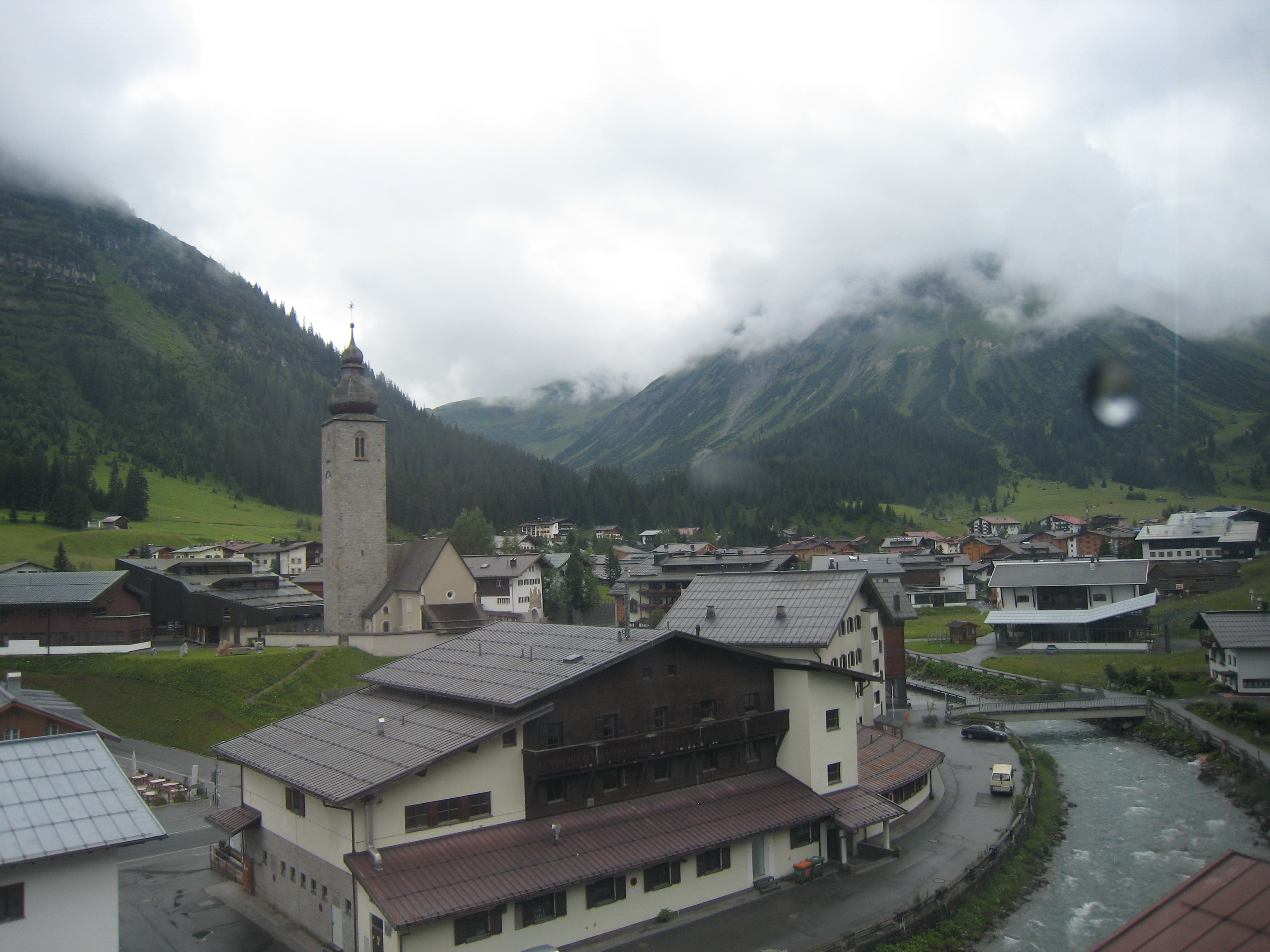 All the ski routes. I'm sure this is a hub of activity in the winter!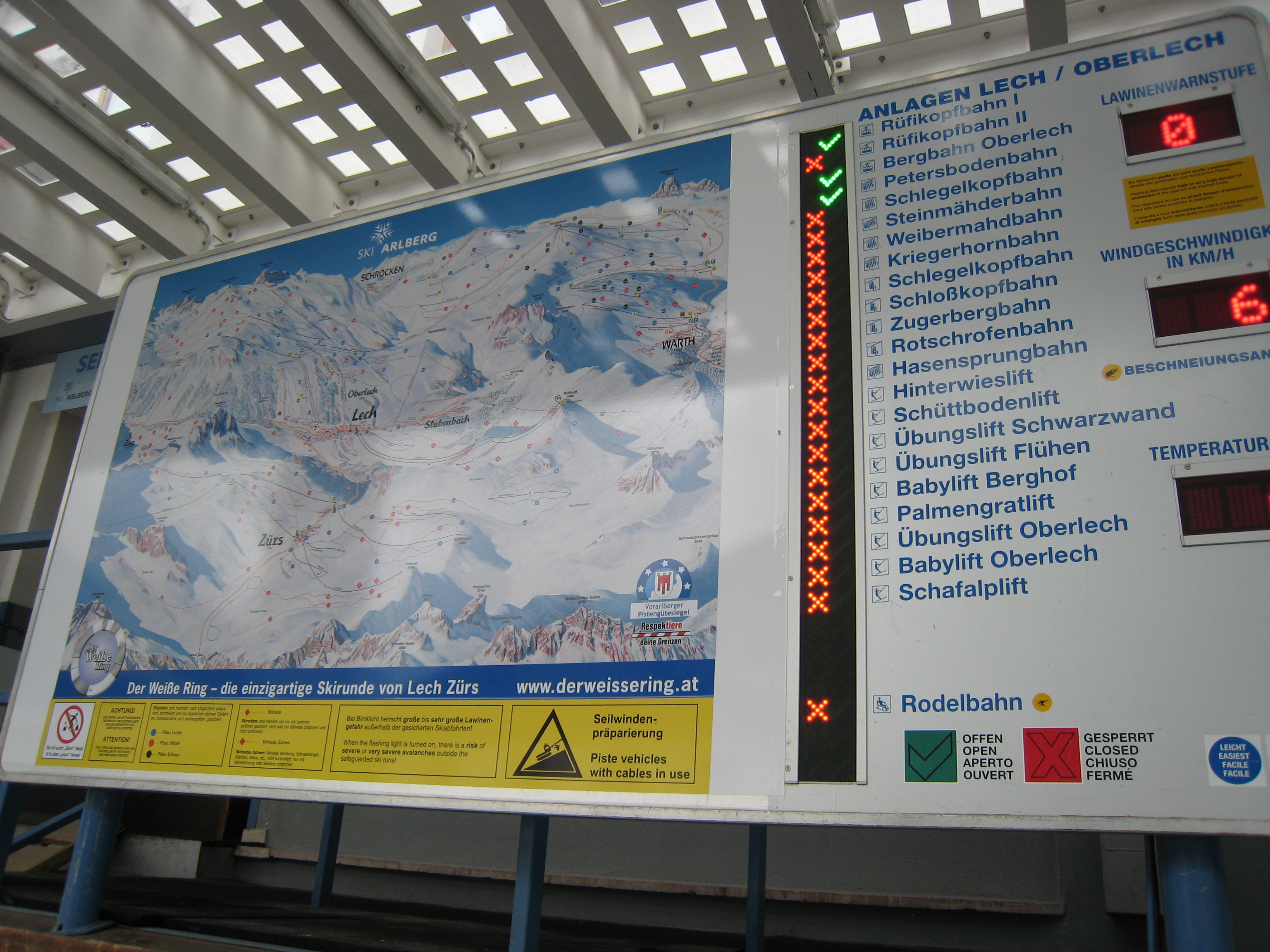 I really thought I took more pictures of the actual getting on the cable car part. Turns out I didn't. Guess words will have to do.
The day before, Mary had gone with a big group to ride the cable car. A cool feature of staying at Hotel Sonnenburg is that your room key is also a pass to ride the cable cars and chair lifts. A nice benefit and quite a cost savings if you go crazy riding stuff!
Unfortunately, Mary's key hadn't been stamped so she had some hassles getting on and off the cable car the first time. We got all that sorted and felt confident that it would work just fine on our trip.
It sort of did.
We got to the cable car place and dutifully waved our properly stamped card at the entrance thingy and it didn't turn green. We waved and waved and nothing happened. Finally the guy came out and said that we have to wait 15 minutes. So we did.
We had entertainment as we waited.
It's Sunday so there was a band marching to the church.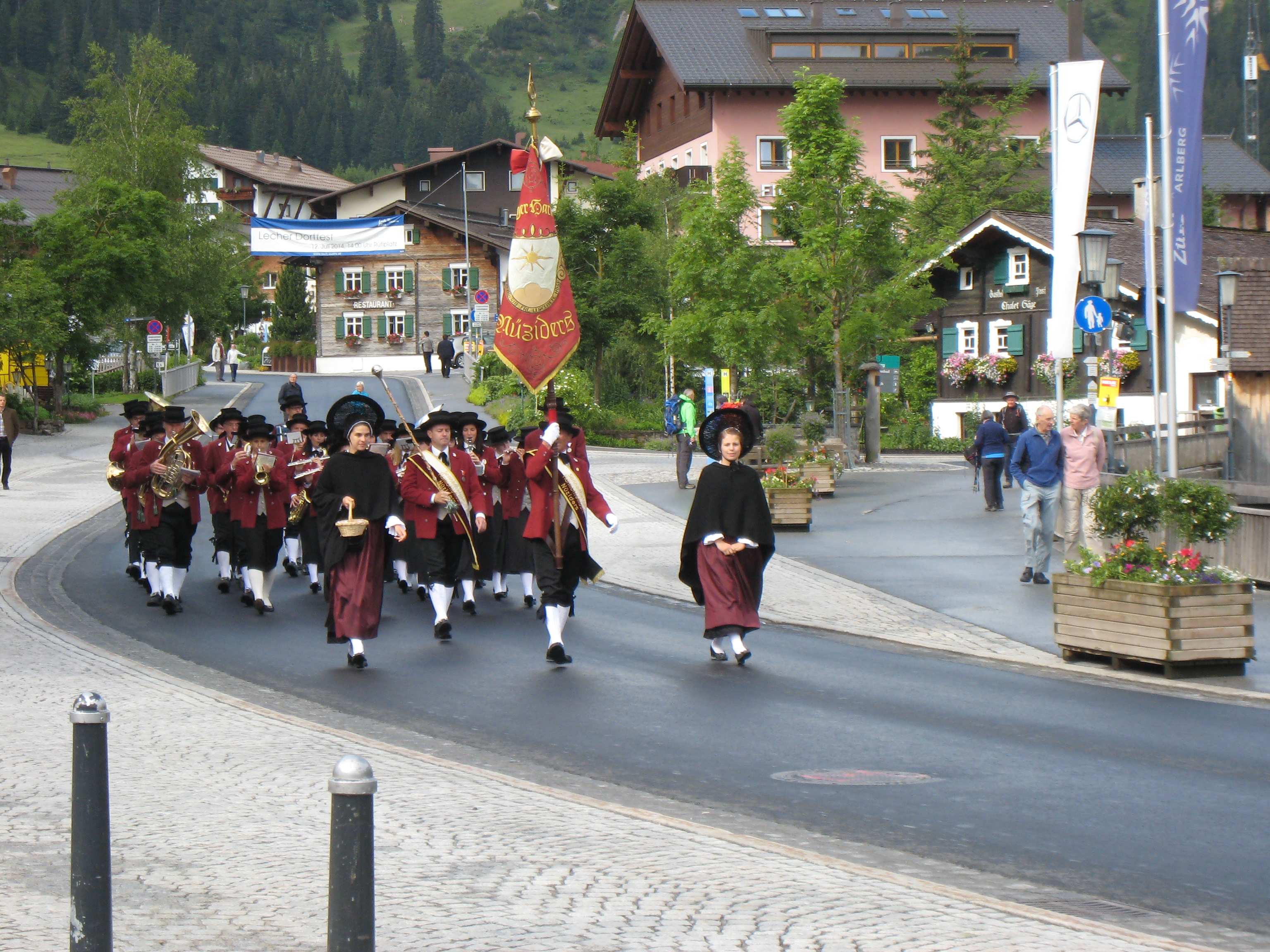 15 minutes passed and we were told to wave again and lo and behold it worked!!! We passed through the turnstile thingy and stood in front of the elevator. Not seeing a button we began waving our cards around some more. The same guy as before came out of his office AGAIN and said, "How about this one?" and pointed to the other elevator. The OPEN elevator. The OPEN elevator we had walked right past. Mary and I agreed that that one would do just fine and got in.
The same guy became the guy that actually rides up the mountain with us and we had a lovely chat with him.
UP! Here's the audacity part. DAMN, it's high. Not a little bit high. HIGH! As in thought I was all the way there and we weren't even close, high.
Avalanche protection, they are adding more. Imagine going to work THERE!!! On that little walkway!!!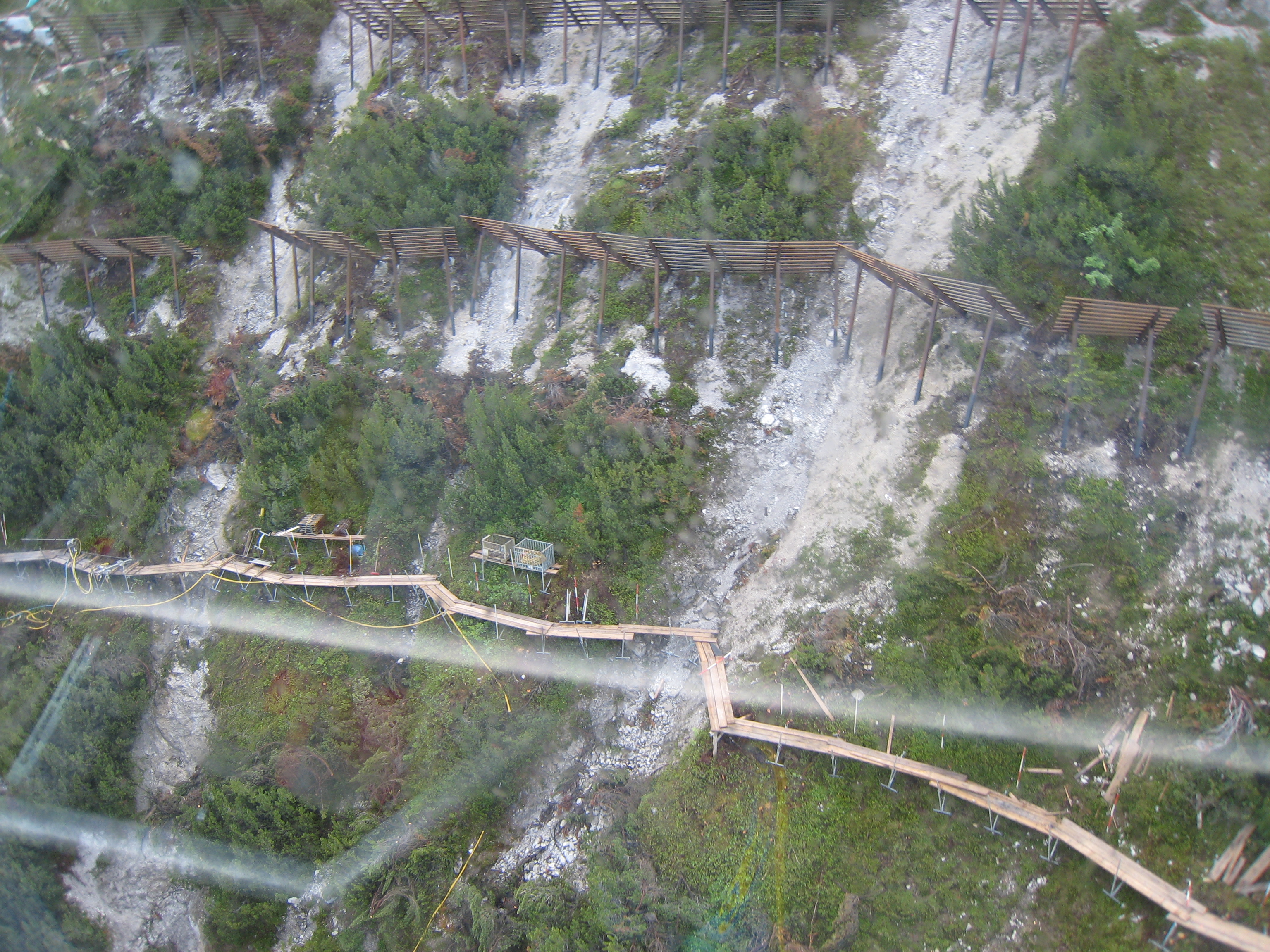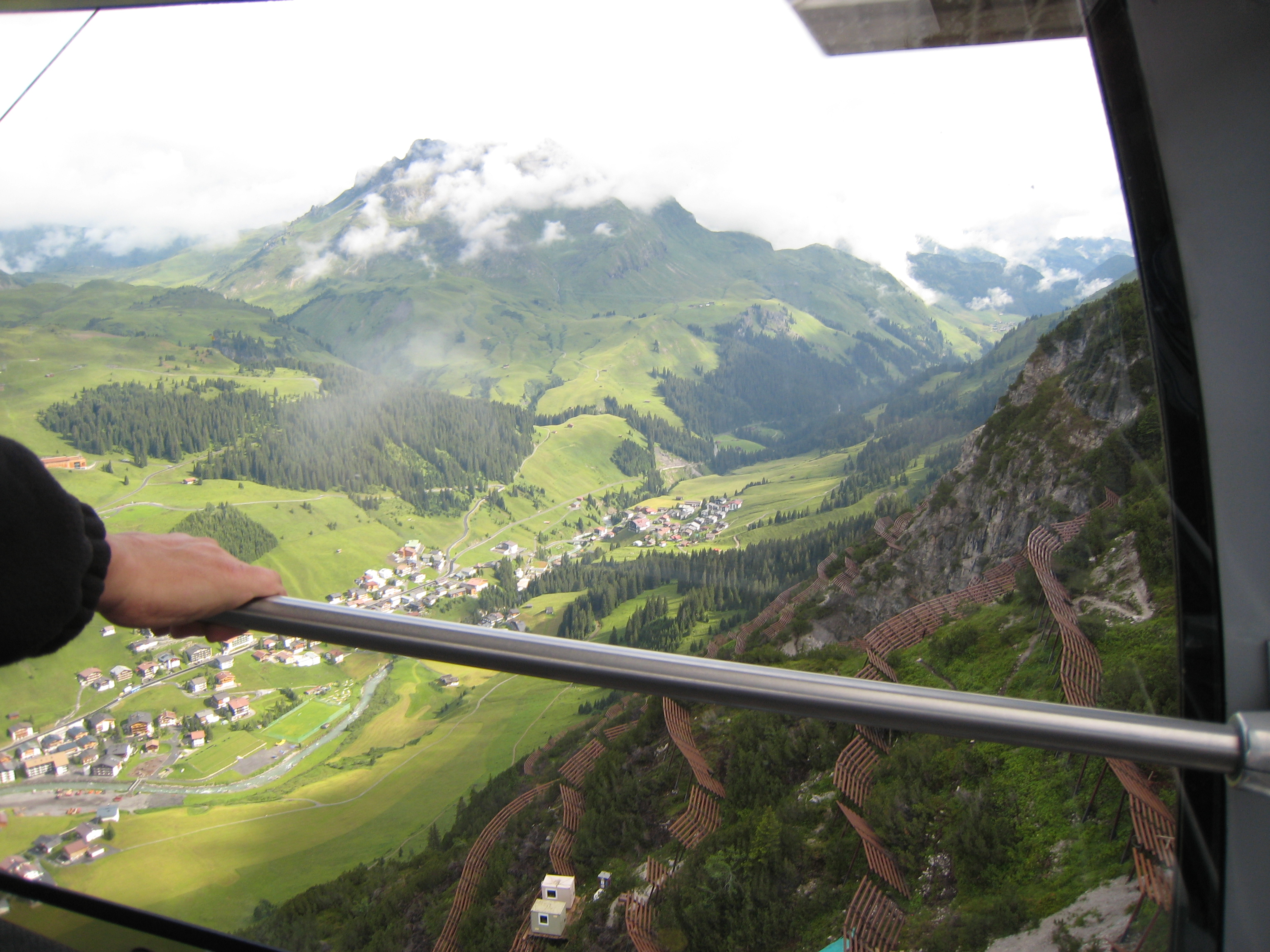 When we passed this tower, I thought we were at the top. NOPE

Yeah, that's the town down there!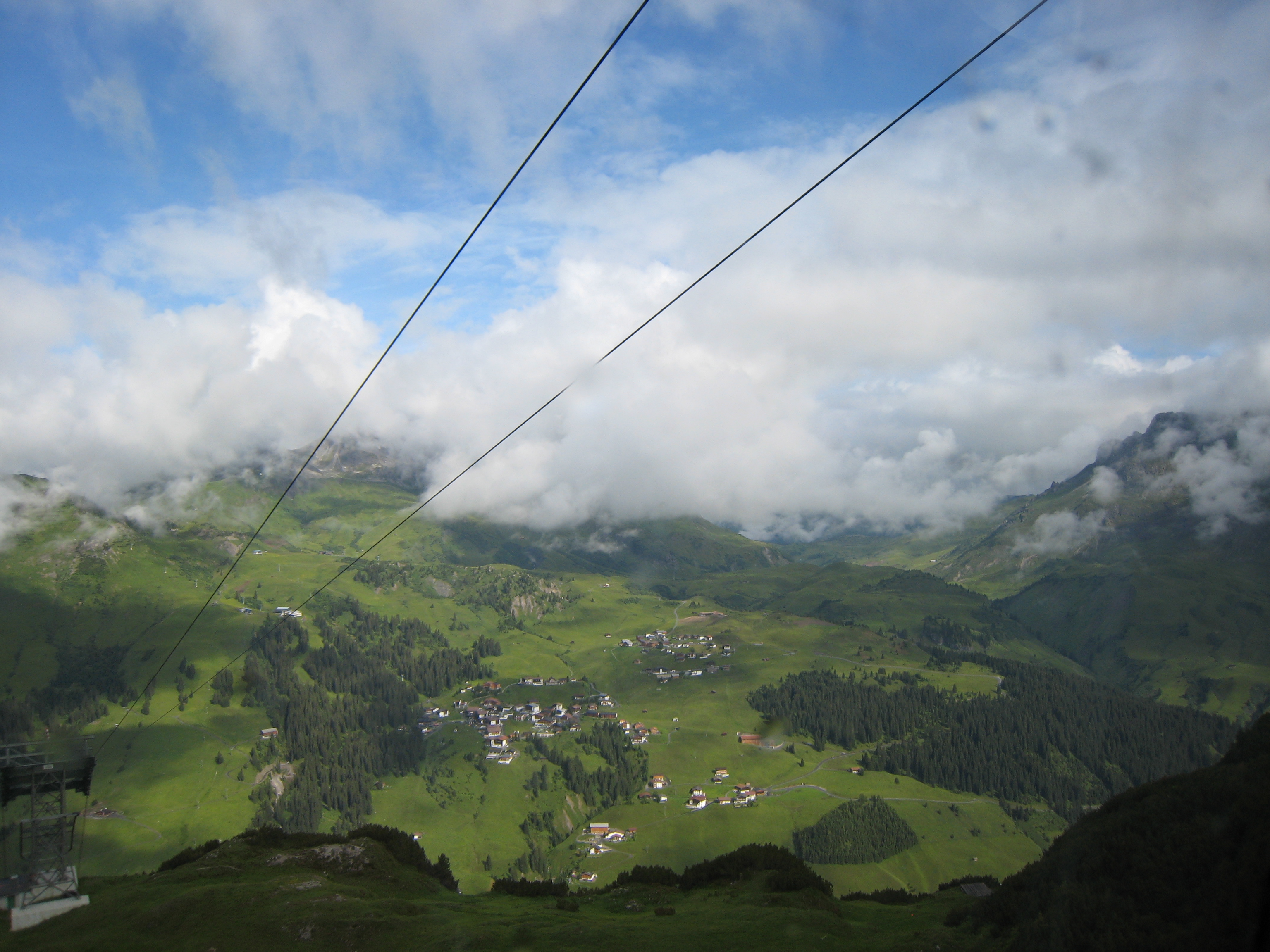 We are now at the top, which used to be the bottom of the sea, because the fossils tell us so!

It was mind blowingly beautiful up there and the first time we had felt the sun since we arrived in Europe.
I'm amazed at the audacity of it all. To see a potential and make it a choice. To allow people to experience such beauty and offer a vastly changed perspective. It moved me deeply. And, we had to get a move on.
We needed to go down in the next car to get to channeling on time.
I anticipated that the ride down would make my tummy feel funny the way a roller coaster does, but that wasn't the case. It felt more like an elevator than anything else.
Most of my past travels were in the company of someone who was very afraid of heights. Many times, that fear would become my fear and limit my actions. In Seattle? No way you are going up in the Space Needle, etc. It was so refreshing to decide whether or not to go on this journey based on how I felt in the moment. Sure it was a little nerve wracking at first, yet the beauty and newness of it all superseded that within moments. I giggled and gasped and had a fine time!
Mary later shared that just a few years ago she would have been too afraid to ride it. I sensed no fear in her at all!!
Back on land, I felt all so very confident that if I stood at the "bus stop" with the blue markings on it, the blue bus would stop for us and make our journey back to the hotel a bit faster. The blue bus drove right by. Clearly, IDKWGO was in full effect. We walked.
Eloheim loved the cable car and I'm sure it will be mentioned in future channelings.
Audacity! Where can you add some to YOUR life?????
****************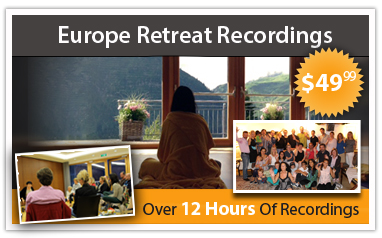 Use this link to order all TWELVE hours of our sessions in Europe!
All seven sessions held in Europe (four in Austria, three in Turkey). Watch ON DEMAND right here on my site!

Read part one of Life with Eloheim here
Part 2 here
Part 3 here
Part 4 here
Part 5 here
Part 6 here
Part 7 here