Wow! I'm 50!!!!!
I don't actually feel any older than I have for years now and with my hip/back doing so much better, I feel stronger than I have in a long time. So, this birthday isn't really about that…
What I find it's about is reflecting on the people in my life. Feeling such a sense of gratitude for the amazing companionship I have.
I also find myself reviewing all that we have done with Eloheim. In our most recent meeting, Eloheim told us all about the different phases we have gone through in our Earth incarnations and talked more about why we are here. They explained how what we do here on Earth is a not just evolving our human form, but actually generating evolution for our souls as well!
Our journey with the Body/Personality/Awareness teachings is now focused on the Body/Awareness connection. It's truly amazing to SEE Levels 7-9 play out in my life. I remember very clearly when the Levels teaching was first introduced and how Level 9 seemed like something from another galaxy!! Yet here we are. WOW!!!
All in all, a profoundly powerful time both in the teachings and in my personal journey!
OK ENOUGH REFLECTION!!! Let's get on to the fun!!
Much love to you,
Veronica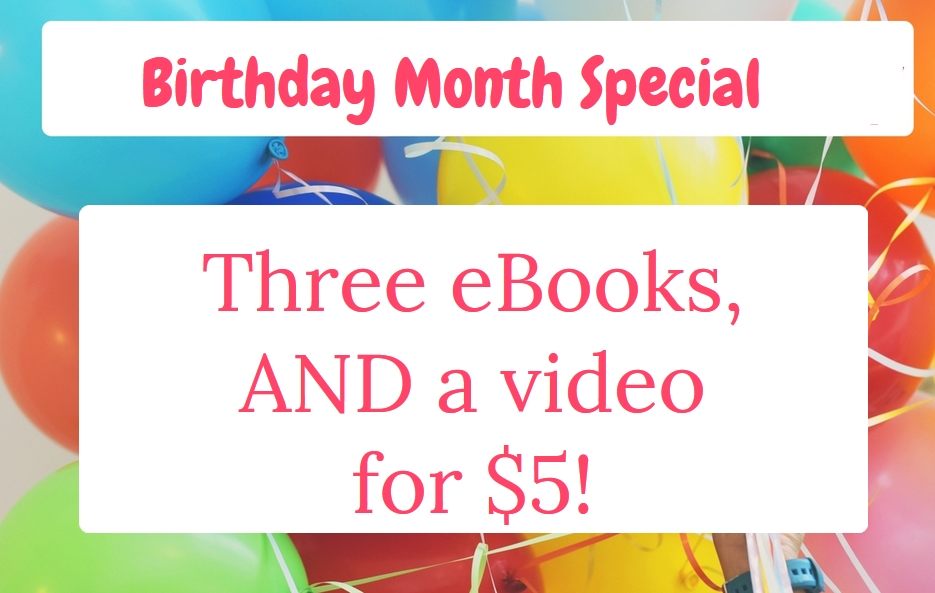 Let's start off with a bang! $5 gets you
Three eBooks and a video from Eloheim!
YES
, IT'S TRUE!
Get The Choice for Consciousness: Tools for Conscious Living Volumes 1-3
PLUS a 90 minute video of Eloheim talking about the tools in those books all for just $5. Save 50%
Eloheim is best known for their dozens of easy-to-apply tools that offer life-changing support for personal transformation.
The Choice for Consciousness: Tools for Consciousness Living series offers step-by-step tools to show you how to break unhealthy habits and discard victim mentality so that you can fully embrace the truth of the statement, "I CREATE MY REALITY!"
Volume one of the series contains 22 tools which help you recognize where you are experiencing victim hood. With that awareness, you can begin to live as a creator.
Volume two's 16 tools help you to live as a creator of your life by illuminating your relationship to the moment. This will empower you to create the life you have always dreamed of.
Volume three includes 15 tools to help you learn to fully take responsibility for your reactions to your creations thus living the life of a creator. The tools fall into four categories: • Readiness for change • Managing your energy • Seeing things a new way • New relationship to money
THIS CORE ELOHEIM MATERIAL IS LIFE-CHANGING!!!
Follow this link, the bundle is the first offering on that page.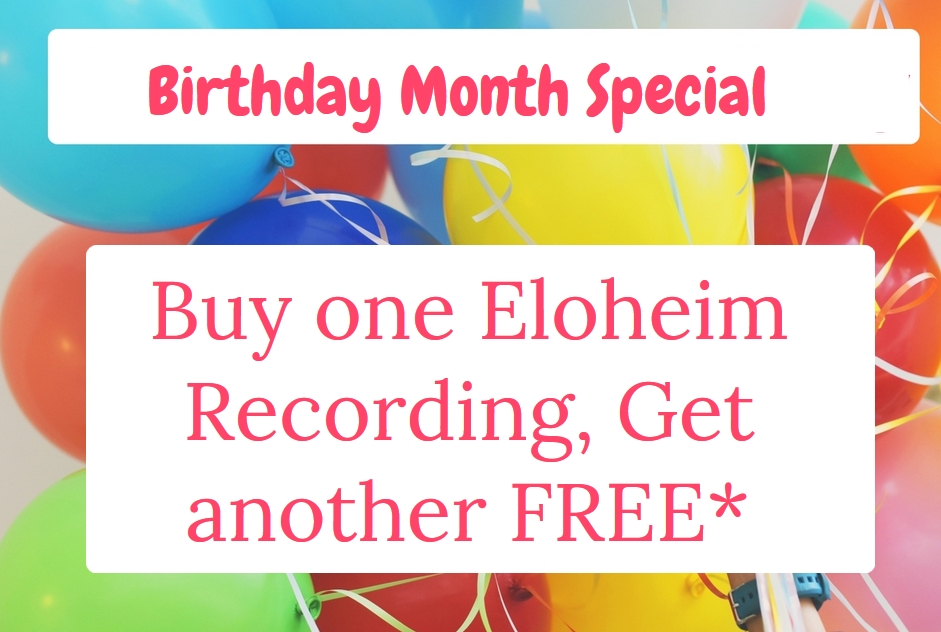 Buy one Eloheim recording and get another recording of the same or lower cost FREE!!!
Do this as many times as you want!!
This special is even better than it seems as I'm still offering my birthday special from last year where I lowered the price of most recording to $8!!! Savings on top of savings!!!! HAPPY MY BIRTHDAY TO YOU!
The recordings included in this offer are the ones listed on this page: https://www.eloheim.com/meeting-archives/
I'm also including the recordings by month in this offer, you can see them under the recordings by year (just click on the month you like!) https://www.eloheim.com/meeting-archives/#year
Now the shopping cart is nowhere near smart enough to do this automatically. So go ahead and purchase one or more recordings and send me an email (eloheimchannel@yahoo.com) with what you want for free!!!!
Order as many recordings from that page as you like and you will get the same number free!
Questions? Just ask!!!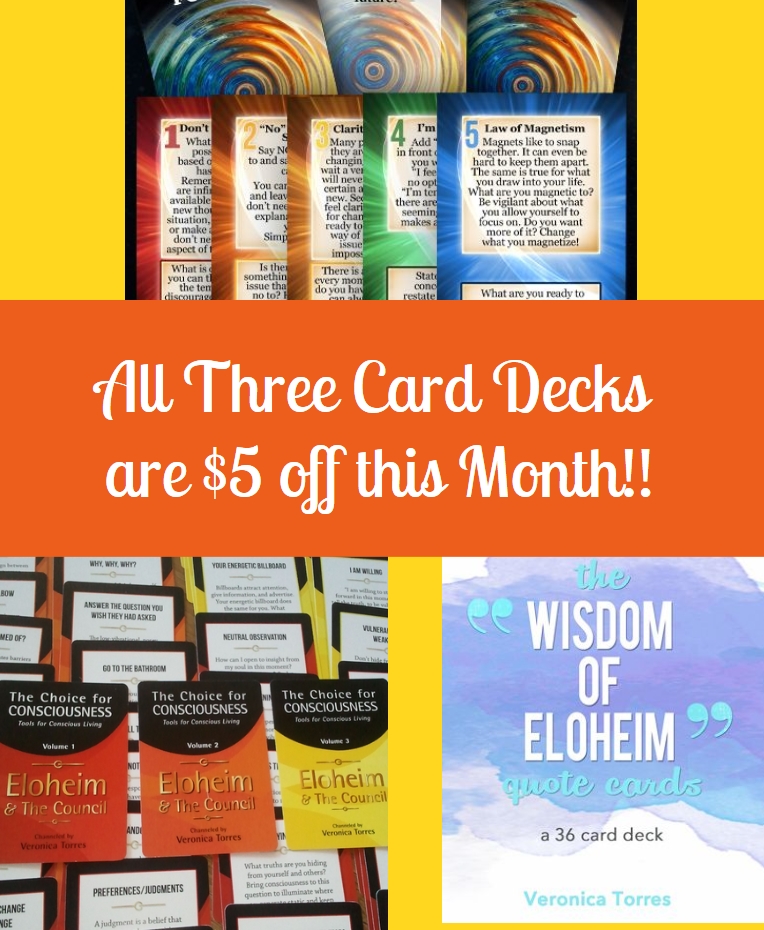 All three of our Eloheim Card Decks are on sale this month. I've taken $5 off of each!!!!
Here are the links to order: (note, to get this special price you MUST use the links below. The discount is not available if you order from my website)
LEVELS OF CREATING DECK no box Normally $31.99, now $26.99
LEVELS OF CREATING DECK with box Normally $36.99, now $31.99
TOOL CARD DECK Normally $24.99, now $19.99
WISDOM OF ELOHEIM quote cards, Normally $15.99, Now $10.99
Levels of Creating: (no box) https://www.thegamecrafter.com/games/no-box-create-reality-deck-no-box
or
Levels of Creating: (with box) https://www.thegamecrafter.com/games/learn-how-to-create-your-reality
Tool Cards: https://www.thegamecrafter.com/games/choice-for-consciousness-tool-cards
Wisdom of Eloheim Quote Cards: https://www.thegamecrafter.com/games/wisdom-of-eloheim
They are all print on demand and come from the same place so you WILL save on shipping if you order multiple decks at the same time!!!
Thanks for being part of this amazing journey!!
Many Blessings to you,
Veronica & Eloheim