SALE EXTENDED UNTIL JANUARY 15TH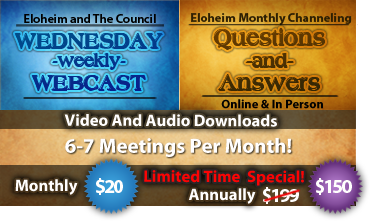 special on annual subscription plans!!!
Joining us as a subscriber is a PERFECT way to keep up to date with The Council's teachings.
It's also a PERFECT way to offer financial support to help ensure that I will be able to continue to offer The Council's teachings. It REALLY does make a big difference!
Join today!

Eloheim and the Council are helping us move toward ascension – living from the soul's perspective within the human form. Each week Eloheim's teachings build on the previous week. Questions from the audience help each of us see how the tools can be used in our own lives and help Eloheim tweak the energetics of the material presented.
Subscribing means you will never miss a meeting! Your monthly subscription renews automatically on the same day each month, so you can subscribe anytime. Annual plans run for one calendar year from the day they begin. Start anytime! You will get a full 12 months of meetings!
_____________________________________________________________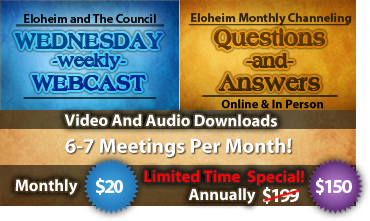 BASIC SUBSCRIPTION: AUDIO AND VIDEO DOWNLOADS OF OUR WEEKLY AND MONTHLY MEETINGS
This plan offers you the audio and video recordings of 6-7 channeling sessions per month. OVER EIGHT hours of material each month! You will automatically receive an email allowing you to download both the audio and video recordings the day after our events. ($20 per month – $199 annually SPECIAL!! The annual plan is only $150 when you sign up BY JANUARY 15TH!)



BASIC Subscription Annually – $150
If you would rather pay monthly, follow this link.
_____________________________________________________________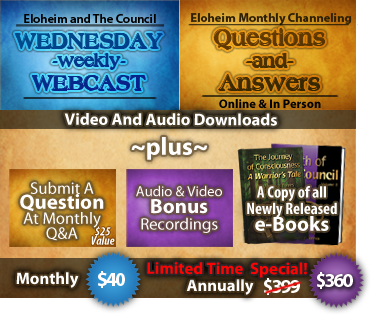 MASTER SUBSCRIPTION:
Subscribing to our MASTER SUBSCRIPTION ($40 per month or $399 per year SALE!!! Annual Master Subscription is $360 ) includes
Audio and video downloads of all group sessions automatically sent by email
ASK A QUESTION DURING the monthly Q&A with Eloheim ($25 value)
Ebook versions of our new books as they are released
Bonus recordings of added events (for example, Master subscribers received the recordings of our retreat – $20 value)



AS AN ADDED SIGN UP BONUS: I will also send you the audio and video downloads of our 2012 retreat.



Annually – $399 Sign up BY JANUARY 15TH and pay only $360!
If you would rather pay monthly, follow this link.