2013 Retreat with Eloheim and The Council
Opening Session: 1 hour 37 minutes
The entire Council stated their vision for the retreat

Second Session: 1 hour 49 minutes
Eloheim did one-on-one sessions with about half of the participants. Amazing healing and transformation right in front of our eyes!

Third Session: 2 hours 6 minutes
Eloheim did one-on-one sessions with the remaining members of the retreat. Even more amazing transformations!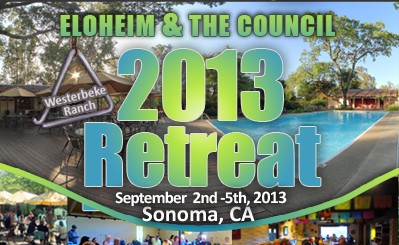 Fourth Session: 1 hour 40 minutes
The entire Council offered final thoughts and new teachings!
Closing Circle: 42 minutes
Participants shared what being at the retreat meant to them.

Share Your Gifts Show: 2 hours 4 minutes (we got told 10pm was quiet time so we had to cut it short! – We were having SO much fun!)
Use this link to access a Word document with the link and password for viewing/downloading the files.

Join our 2014 retreat! October 6-9, 2014. More details here.