Read day 3 and 4 here
Read day 5 and 6 here
Read final days here
Sedona 2016
Day one:
Mindy picked me up and we loaded the car. Between her stuff and my stuff and the recording equipment, mic stand, tripod, white board, and WHO KNOWS what else, it was a full car. We laughed that had we had anyone else join us for the ride, they would be riding on top of the car!
We got about a mile from my house when I realized that in all the packing, I had forgotten my PURSE!
Giggles and a u-turn and the purse was recovered.
When we stopped for gas (and snacks), it was so windy the gas pumps were swaying!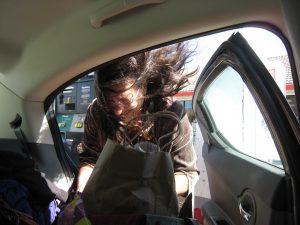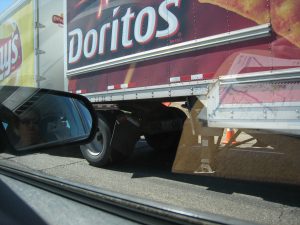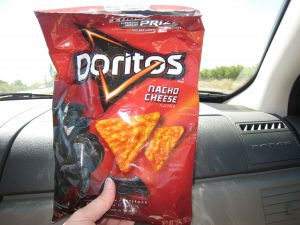 Our drive was full of laughter. We stopped for food someplace in the middle of California. I've done a ton of traveling by car and one thing that I've learned is to take the opportunities that arise to try out new/wacky things. This was one of those times. We could have had fast food but who could pass up this place?
It was like 27 gift shops from various places all under one roof: so many goofy gifts, a cheese shop, a wine tasting, an ice cream shop, a huge antique store, a shooting gallery, a restaurant, a play area, animated animals heads that sing……on and on it went. It was HUGE.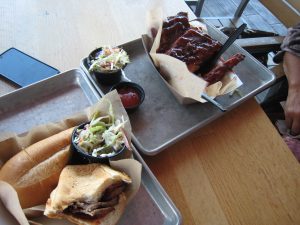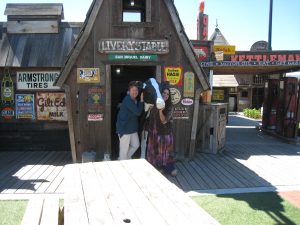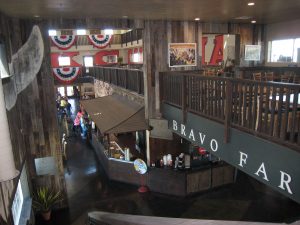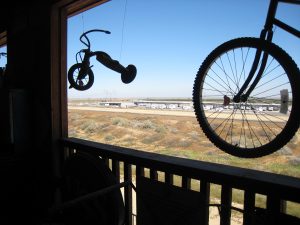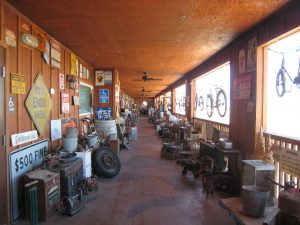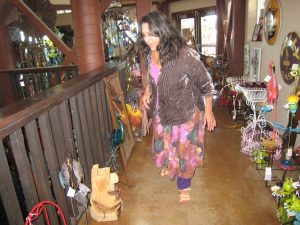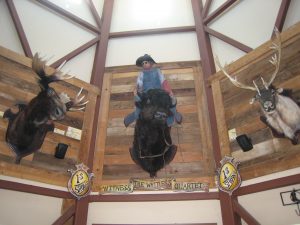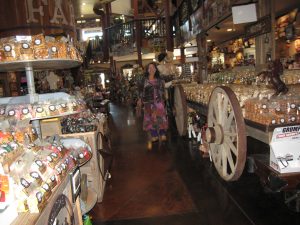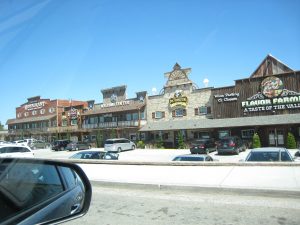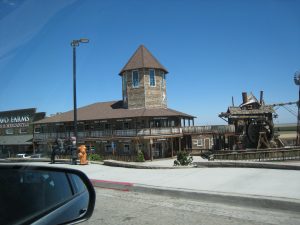 We ended up eating lunch there at the BBQ place and spent our time in line chatting with some super nice local folks. It was wonderful to hear about their lives (one is a kitchen supervisor in a jail and the other is on the kidney transplant list – he also had his big toe amputated so he can't walk with his eyes closed). They planned to drive dirt roads back to their house about 45 miles away.
I did say the MIDDLE of California. There is an Interstate and farms….and little else.
The BBQ was incredible!
Back on the road and a failed attempt at a nap later and we just did our time and saw what it was like to try to be in the moment when it's a LONG moment LOL
We had planned to stop in Barstow but Mindy was still feeling good driving so we carried on to Needles. Needles is quite close to the California/Arizona border. As we checked into the Motel 6 we were informed that Needles doen't have a bank or a grocery story
, but you can get 10% off at Denny's because you are a Motel 6 guest.
It was also 89 degrees at 9pm. Then it got windy.
We ate at Denny's and tried to sleep. The energy was weird.
People coming and going all night long, coming and going on the nearby interstate, and pretty much that's all people do – come and go in Needles. It wasn't a restful night for me and when I met Mindy in the morning she reported the same.
So after 13 hours on the road, no sleep, and another (actually GREAT) meal at Dennys, we were on the road again!
Day two
We asked about taking the scenic route for part of our journey only to find out it was on fire. We ended up driving through the smoke as we zipped along on the interstate. That was trippy and it made the sky amazingly beautiful colors.
We were well over half way there and really getting into the desert scenery now. I feel like there is just more space between my atoms in this area. I also feel like there is more air in my body. I'm enjoying that very much.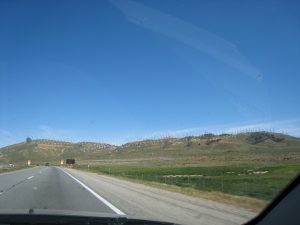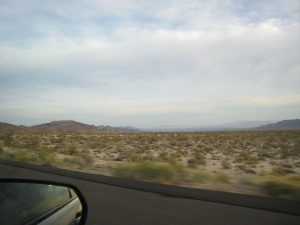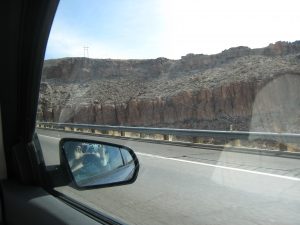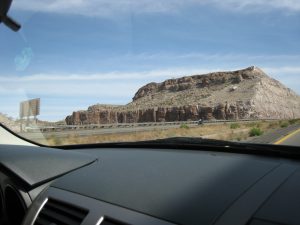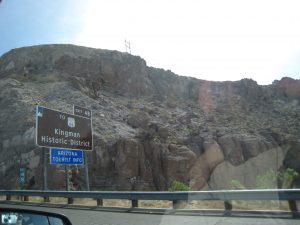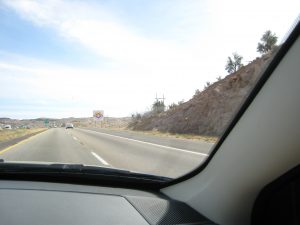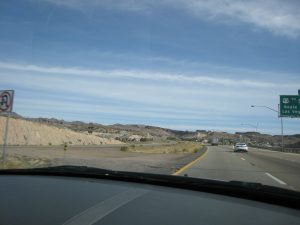 Dry eyes, dry lips and having to drink 2x the normal amount of water is the trade off.
When we got to Flagstaff, we saw a lot of smoke South of us (the direction we needed to go). Turns out they were doing a controlled burn on the 2 lane road we needed to drive. So they told us to go slow as the flames were burning just feet from the car in places. Mindy found this counterintuitive. I was just trying to get good photos of it! LOL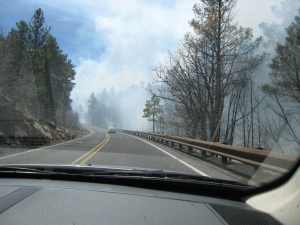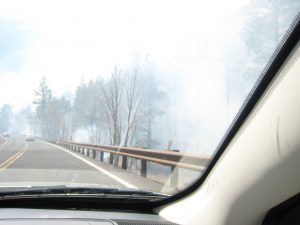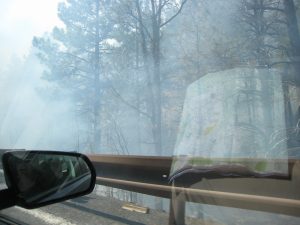 I have been to Sedona twice before, but never from the North so I got to see new things and it was great to be with Mindy for her first visit.
We got into town and started trying to find everyone else. Our meetup spot was Safeway to get supplies.
Jen, Richard, and Tiffanny found us first with Mark joining us shortly thereafter. It was SO great to see everyone again and to meet Jen for the first time. I was totally out of it with all the driving so it was a funny reunion. I kept saying, "My lack of visible enthusiasm isn't an accurate reflection of my inner state." I was just stuck in first gear and couldn't make my body move faster than that.
We had a hilarious group shopping journey around the store as we attempted to sort out what we actually needed to buy. Then we tried to form a caravan to head to the house which didn't exactly work but everyone made it anyway.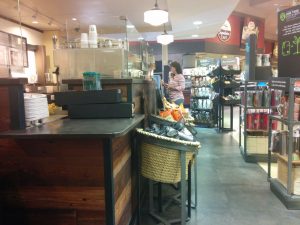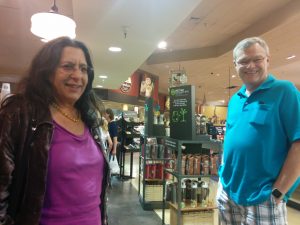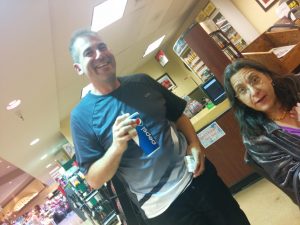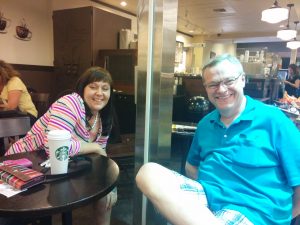 We were early arriving at the house so we had to sit around in the driveway for about 30 minutes while they finished prepping the house.
Once we got in and got settled I rested. The house is HUGE. 6700 square feet is a lot. Mindy is in one end of the house and got lost a couple of times. There are spots that we haven't even used yet.
I can't remember exactly when what happened next. It was a lovely mixture of laughter, conversation, building puzzles, eating and sleeping.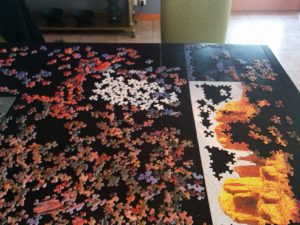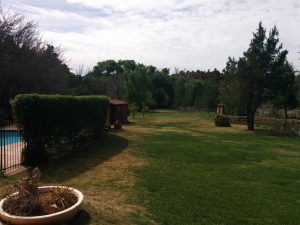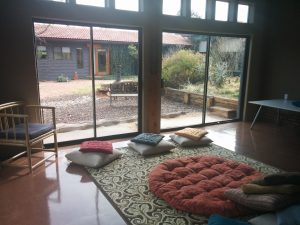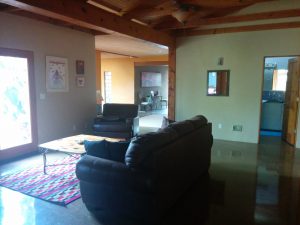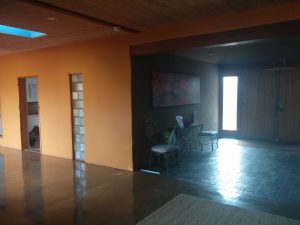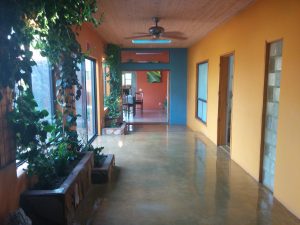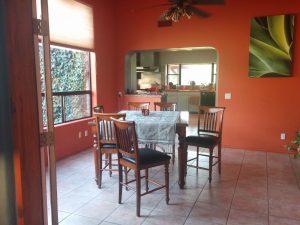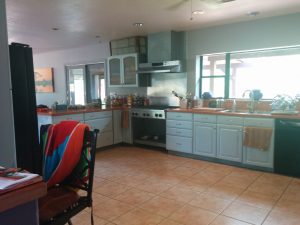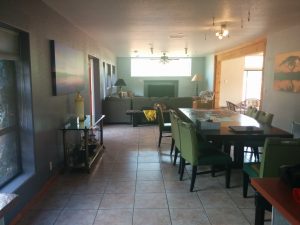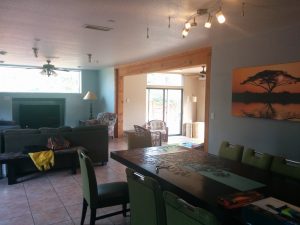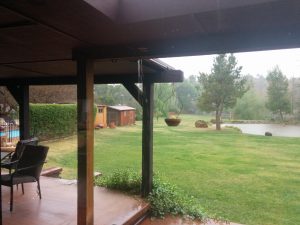 ~~~~~~~~~~~~~~~~~~~~~~~~
I will post more about our trip in the coming days.
Order the recordings!
The kick off event – The Uncertainty Spectrum. Click here for more details. This channeling is referenced in the Sedona channelings.
The four retreat recordings – Over five hours