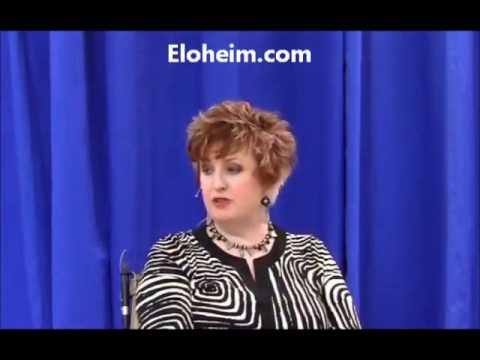 Conspiracy Theories ~ 2013-06-16
We had a wonderful Q&A with Eloheim this month.
The focus you must have now is the illumination of static. Your relationship to it MUST shift because there is no longer room for static to be taking up your day or your emanation. When you think any thought, it must have a correct relationship to the present moment, and be unpolluted by outcome. You cannot continue to live in "if only." Take ownership of what you emanate, ownership of every moment. If you don't like the moment, how are you interacting with it? What are you choosing? Accountability is absolutely required now. Soul integration is a sacred task and responsibility. Treat static as if it was your most precious possession…grab it with both hands so that you can clear it. "Where am I giving away now? Where is the opportunity here?" Don't drop the opportunity in order to go to suffering. Don't prefer suffering to what is actually happening.
Be in now, not "over there" and not in the future. Outcome = suffering. Don't expect outcome to change your current moment. You take yourself wherever you go, and a changed outcome doesn't change who you are. If the "now" sucks: don't argue with what is, don't apply a story, don't be in outcome, don't be in "must be." That's all static. Your emanation consists of thoughts, actions, emotions, feeling, memories, fears, SI, core emotion. Static. Static. Static. Only when that quiets down, can you feel what is really here for you. Bring it back to now. Transformation is NOW. So who are you now? What is your truth now? What's your current moment? What is actually happening? What is fascinating?
When issues come up, use the "I am tempted tool." Back up and be from a centered place. You're you. There's no specific thing you have to be doing to know how you are, to be the truth of you.
If you can't be static-free, at least be aware when it happens. When you are in discomfort, don't go to suffering; go into awareness. Determine where the discomfort is coming from. Don't re-traumatize yourself, but just become conscious. Take the opportunity to be kind to yourself.
Say: "I'm not going to be in familiar suffering any more." Then take much smaller steps. Continue Reading…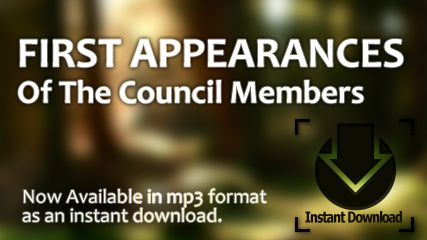 First Appearances of the Council Members
It always fascinates me how a new Council member joins us.
There's something quite powerful about the first time!
I created this package so that the audio recordings of all of the first appearance meetings are in one, easy to access, place.
To start, I have a vintage Eloheim session that somehow never got lost or misplaced in all the years since I recorded it. I had to convert it from a cassette tape!
I have channeled Eloheim publicly since 2002. However, I actually channeled Eloheim for the first time in 2000. There was a two-year gap where I resisted connecting with Eloheim. During that time I tried, once, to channel Eloheim and I actually recorded it!
This package combines that recording with the sessions that introduced the other Council members. It's a total of nine recordings and includes the following meetings: Continue Reading…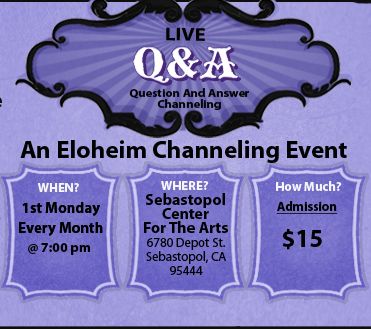 Join us Monday in Sebastopol!
Join us for an Eloheim channeling LIVE in Sebastopol! First Monday of each month. That's Monday, June 3rd!
Sebastopol Center for the Arts 282 South High Street Sebastopol. First Monday of each month, 7:00pm, $15, We use the outside room. Enter on the South side (the first parking lot you come to). Continue Reading…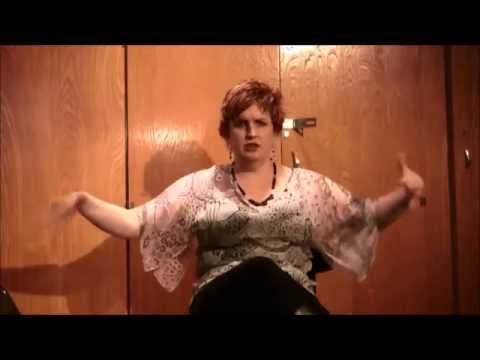 Fascination and THIS Moment ~ Sebastopol, May 6, 2013
We always have a powerful time in Sebastopol. Eloheim does short one-on-one sessions with participants. The May session began with a fascinating exploration of fascination. Continue Reading…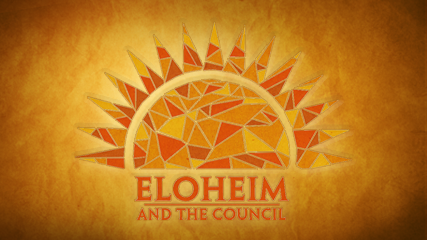 Join us live this week for Eloheim and The Council Channeling Sessions
Eloheim asked me to ask you to consider this question in advance of the Wednesday meeting:
What if infinite possibilities didn't include disappointment?

Tonight is the first Monday of the month so we will be in Sebastopol at 7:00pm.
Wednesday is the second Wednesday of the month so we will be in Sonoma at 7:30pm.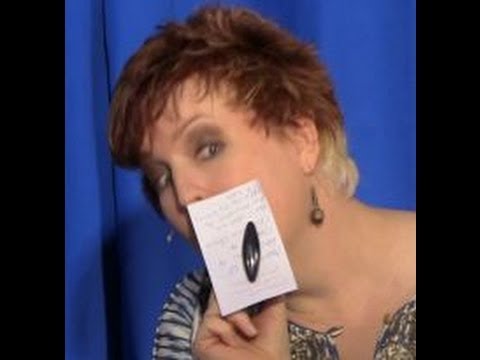 It's All Available to You! ~ 2013-04-24
Wow, what an awesome meeting! Eloheim was so excited that it was "meeting day" they had me bring a list of things the wanted to talk about and magnets!
Guardians: Arrive ready to experience whatever is ready to be experienced. This open readiness is the way to encounter every moment that you find yourself in. Don't ask the moment to be other than what it is. Every moment asks you to show up as consciously as possible, to bring the most conscious version of you there. Continue Reading…
Purchase Recent Meetings
Purchase recent meetings!
Five sessions held in April, 2013
This package includes audio of all five and video of four sessions. (Sebastopol sessions are audio only).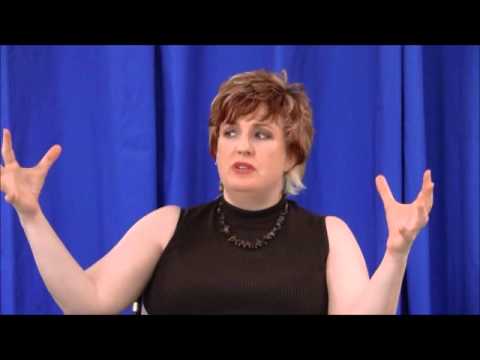 What's My Purpose For Being Here? 2013-04-21
An AMAZING session. The theme of the meeting was exploring the new energetic level we have reached and how to work step-by-step to continue our growth. Eloheim also explained how core aspects of their teachings have evolved and where we are now. Continue Reading…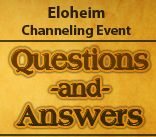 Online Q&A with Eloheim ~ Ask Eloheim a Question!
On April 21, 2013 at 1:00pm Pacific we will hold our monthly Q&A with Eloheim. During this event Eloheim will answer questions submitted by email. We have a wonderful online community. I hope you can join us!
Submit a question ($25) by registering here. Watch the live event by donation by tuning in here Continue Reading…
Schedule Change

Hello everyone,
It's a season of change and my work with Eloheim and The Council is changing as well.
Effective this month, the following changes will be made to the Wednesday night sessions:
(We WILL hold a session tomorrow, April third)
1. We will hold our live channeling events in Sonoma on the second and fourth Wednesdays of each month at 7:30pm (changes from every week). Continue Reading…